May Vows to Safeguard EU Citizens' Rights in U.K. as Leaders Await Full Offer
By and
Three million will get path to 'settled status' in Britain

EU leaders waiting to get full proposal from May on Monday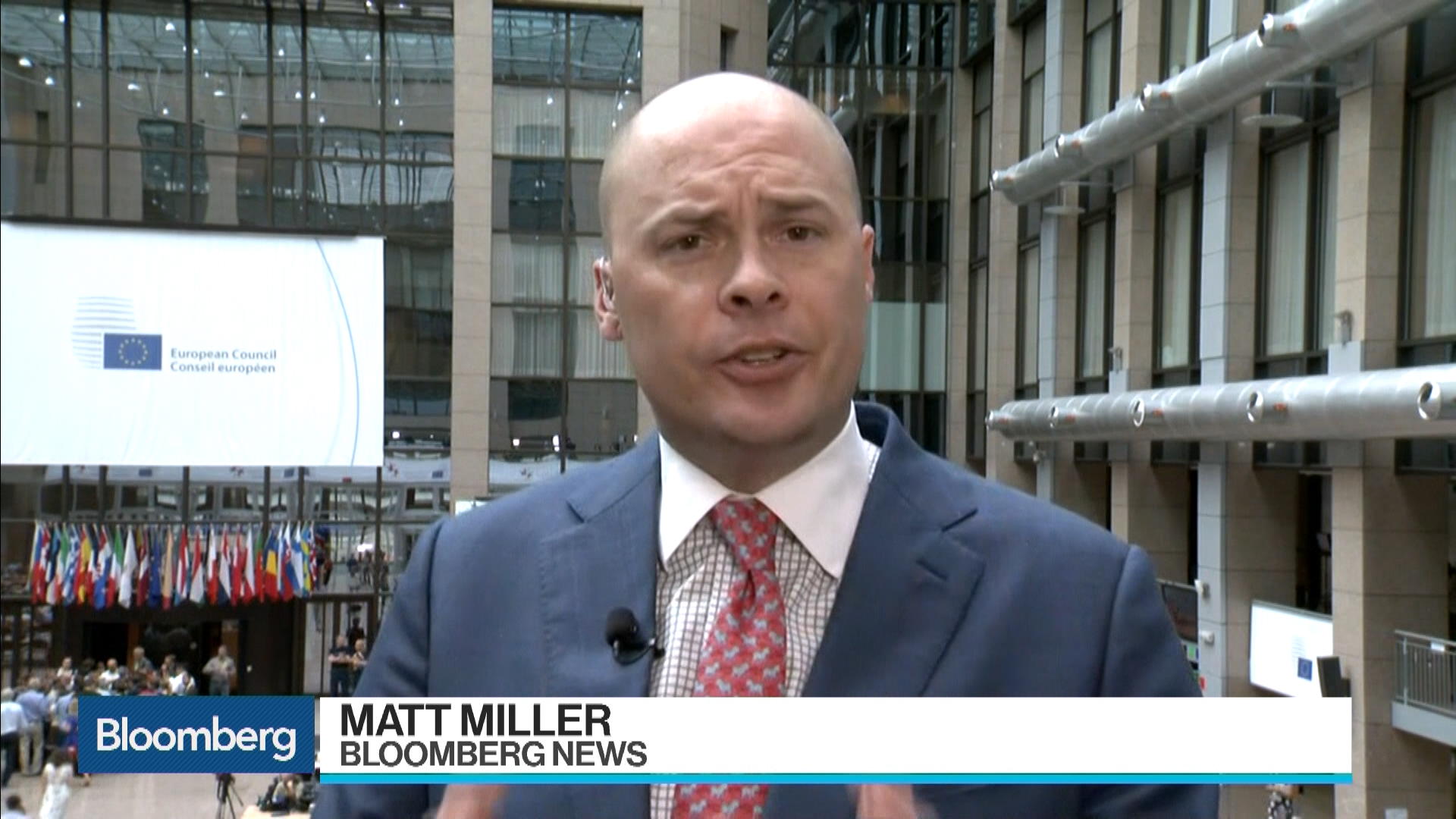 Follow @Brexit for all the latest news, and sign up to our daily Brexit Bulletin newsletter.
Prime Minister Theresa May's proposal to safeguard residency rights of European Union citizens currently living in the U.K. met a tepid reception both in Europe and at home, with EU counterparts and London Mayor Sadiq Khan stressing that many issues remain unresolved.
May told EU leaders over dinner at a summit in Brussels on Thursday that almost all 3 million EU citizens in the U.K. will be able to continue living there after Brexit, saying she wanted to offer them as much certainty as possible about their futures.
Citizens' rights is one of the main issues that the EU and U.K. need to resolve before trade talks can be broached leading up to Britain's March 2019 exit from the bloc. Even though the prime minister emphasized that she didn't want to break up families or deport anyone who currently lives in the U.K., EU leaders withheld judgment on the proposal, choosing to wait for the release of the full plan on Monday.
"We've made what I believe is a very serious, a very fair offer which will give reassurance and confidence to EU citizens living in the United Kingdom about their future," May told reporters in Brussels on Friday. "Of course, there will be details of this arrangement which will be part of the negotiation process."
While the proposal will go a long way toward meeting what EU leaders wanted for their citizens, they're likely to object to May's insistence that questions over their rights should be adjudicated in British courts. The U.K. is also leaving open the question of the "cut off date" from which the rights will no longer apply, saying only that it will be some time between March 29, 2017, when it began the departure process, and the date it leaves. 
'Not Sufficient'
"It's a first step, but this step is not sufficient," European Commission President Jean-Claude Juncker told reporters on Friday. Austrian Chancellor Christian Kern called May's presentation "a first good step," speaking Thursday night after the meeting. "But there are so many details left open and a lot of citizens of Europe are concerned and not covered with the proposal of Mrs. May, so there is a long, long way for negotiations," Kern said.
London's Khan also called May's plans insufficient. "Her proposal doesn't go anywhere near giving the three million EU citizens living in Britain -- one million of whom are Londoners -- the certainty they need to make long-term plans for themselves or their families," Khan said on Facebook on Friday.
While they want to safeguard the rights of EU citizens, May's counterparts, including German Chancellor Angela Merkel, are making it clear that Brexit shouldn't dominate Europe's agenda. In a demonstration of continental unity, Merkel and French President Emmanuel Macron plan to hold a joint news conference at the summit on Friday.
The details of the proposal will be published by the government on Monday afternoon, when May plans to make a statement to Parliament.
The government proposal effectively divides EU citizens into three groups:
Those who have been residents in the U.K. for five years before the cut-off date will be granted "settled status," meaning they'll be treated like U.K. citizens on questions of health care, education, welfare and pensions.
Those with less than five years' residence before the cut-off date will be allowed to stay until they have clocked up five years' residence, and then apply for settled status.
Those who arrive in the U.K. between the cut-off date and the date the U.K. leaves the EU will be entitled to a "grace period" of around two years to allow them to apply for legal status to remain.
May also promised that the application system for settled status will be streamlined "light touch" and use digital tools, in a shift away from the lengthy documents the Home Office currently asks applicants to fill out.
Polish Deputy Foreign Minister Konrad Szymanski said in Brussels that May's offer showed "good will" but doesn't meet "the core requirements needed to reach an agreement."

While the U.K.'s offer goes further than some on the EU side expected, particularly in its assurances on benefits and pensions, it's still short of what the bloc has demanded in areas such as on the need for their citizens' rights to be protected in perpetuity by the European Court of Justice and for the cutoff date to be the day the U.K. leaves the EU.
'Good Spirit'
EU citizens living in the U.K. currently have more rights than British citizens when it comes to being joined by non-EU spouses and other family members. For British citizens, the U.K. requires non-EU spouses to meet a minimum income threshold, but hasn't been allowed under EU law to apply that to the spouses of EU citizens.
Whether that remains the case could become a matter for negotiation. The EU's four-page position paper on citizens' rights calls for the "same level of protection as set out in union law at the date of withdrawal of EU-27 citizens in the U.K. and of U.K. nationals in EU-27."
"This is a good start, but there are still many, many other questions," Merkel told reporters Thursday.
— With assistance by Jonathan Stearns, Viktoria Dendrinou, Stephanie Bodoni, Nikos Chrysoloras, Esteban Duarte, Marine Strauss, Arne Delfs, Helene Fouquet, Jones Hayden, and Charlotte Ryan
Before it's here, it's on the Bloomberg Terminal.
LEARN MORE