markets
Dollar Super Cycle Is Over as Europe Comes Back, Barclays Says
By
Currency is down this year after rallying 28% in four years

Europe recovery, aging U.S. business cycle at fault: Barclays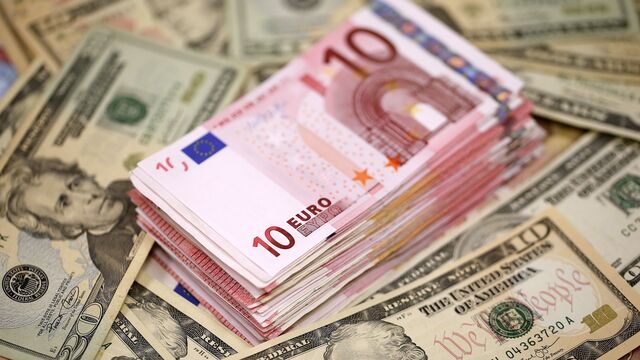 The dollar's multiyear rally is dying of old age in the face of recovering growth in Europe, according to analysts at Barclays Plc.
"The cyclical divergence that helped the dollar in these years has likely peaked," head of macro research Ajay Rajadhyaksha and emerging market strategist Michael Gavin wrote in a report to clients. "Not only because of the European recovery, but also because the U.S. business cycle is more advanced than in Europe."
They see a stagnant immediate future for the greenback against major peers, although in the longer term the U.S. currency has the potential to decline after recent gains took it to the strongest levels in more than a decade.

The Bloomberg Dollar Spot Index, a measure of the greenback against a basket of 10 leading global currencies, is down 5.4 percent this year, halting a rally that sent it up 28 percent over the previous four years. The Federal Reserve's broad, trade-weighted index of the dollar reached 129.08 in December, less than 1 percent below the record peak touched in February 2002.
The dollar's weakness this year, coupled with steady global growth, also bodes well for carry trades in emerging-market local debt and some emerging equities, the Barclays analysts said.
However, emerging markets are no longer as uniformly attractive as a few quarters ago "as growth momentum has peaked, commodities have weakened, domestic politics have introduced idiosyncratic risks, and positioning has become heavier," the analysts said.
Barclays remains overweight equities over fixed income globally, with eurozone stocks the top pick. Its analysts are also growing more positive on Japanese shares. The firm is underweight short-term rates in the U.S. and longer-term yields in most other developed economies.
"Equities have had a strong run, and the contrarian view would be to fade this move -- we believe this would be a mistake," they said.
While stocks are looking more expensive than they have in the past, global bond prices are also elevated. Given a resurgence in earnings, tight spreads in credit in advanced economies and the possibility U.S. President Donald Trump will push through tax cuts, stocks offer the "least unattractive" investment on a risk-reward basis, the analysts concluded.
Before it's here, it's on the Bloomberg Terminal.
LEARN MORE