Disgraced Lobbyist Abramoff Reveals Failed Bid for Trump Meeting
By and
Filing says he sought audience for Congo-Brazzaville leader

Once known for his big fees, Abramoff unpaid for the effort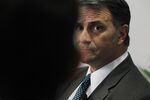 Disgraced former lobbyist Jack Abramoff is back in action, according to a document released by the U.S. Justice Department today.
Abramoff, who went to prison in 2006 after pleading guilty to charges of mail fraud, conspiracy to bribe public officials and tax evasion, disclosed his unsuccessful effort to arrange a December meeting between then-President-elect Donald Trump and an African leader in a government filing.
Abramoff was unable to arrange the meeting or a phone call between the two leaders despite the assistance of Representative Dana Rohrabacher, a California Republican.
Abramoff's lawyer, Peter Zeidenberg, declined to comment, as did Ken Grubbs, a spokesman for Rohrabacher.
The disclosures say that Abramoff, who once charged some clients hundreds of thousands of dollars for a few months of his services, was not paid for his efforts on behalf of his client, Iancu Costel, whom Abramoff's lawyers said is an Italian national.
The filing gives Abramoff's account of how he became involved in efforts to enlist U.S. aid to establish a coalition of African states to fight Islamic extremist groups. Those efforts were first reported by Politico.
Costel sought a consulting contract with the Republic of Congo, the filing says, and in October tried to enlist Abramoff's help in the project. Costel's endeavors for the country were to include promoting its fight against the radical group Boko Haram, assisting its effort to stem illegal immigration to the U.S., and improving its image abroad, the filing says. Abramoff declined an offer to work on the project, it says.
Palm Beach
But when Costel informed Abramoff in December that Denis Sassou Nguesso, the Republic of Congo's president, was traveling to Palm Beach, where Trump's Mar-a-lago resort is located, Abramoff flew there "on his own initiative" to facilitate the meeting, according to the disclosure. The attempt failed, but not before the former lobbyist reached out for help to Rohrabacher, who Abramoff described in the disclosure as being "a leader in Congress opposing radical Islam."
Though Rohrabacher did not arrange a meeting, he did express interest in arranging a congressional delegation to Brazzaville, the disclosure says. According to Politico, he flew there in February.
Abramoff filed the disclosure after the Justice Department asked him to register as a foreign agent, according to a letter his attorneys sent the department. In the letter, the attorneys dispute that Abramoff needed to register under the Foreign Agents Registration Act because he wasn't paid and because he didn't have an actual agreement to act on behalf of a foreign government and doesn't expect to.
"Further, it does not appear that the Government of the Congo benefited in any way as a result of Mr. Abramoff's activities or those of the Italian national," the attorneys said.
Sassou Nguesso has been president of the Republic of Congo since 1997, when his forces ousted Pascal Lissouba, the elected president, in a civil war. His government has been criticized for widespread corruption and violations of human rights.
For Abramoff, the disclosure is his first since 2004, when he was at the center of a lobbying scandal that led to 20 convictions or guilty pleas, including two officials in President George W. Bush's administration, a member of Congress, congressional aides and nine other lobbyists.
Before it's here, it's on the Bloomberg Terminal.
LEARN MORE