China's Dealmaking Tycoons Scrutinized by Banking Regulator
Bloomberg News
Shares of Fosun, Wanda unit plunge; HNA, Anbang also targeted

News spooks China markets less than 36 hours after MSCI nod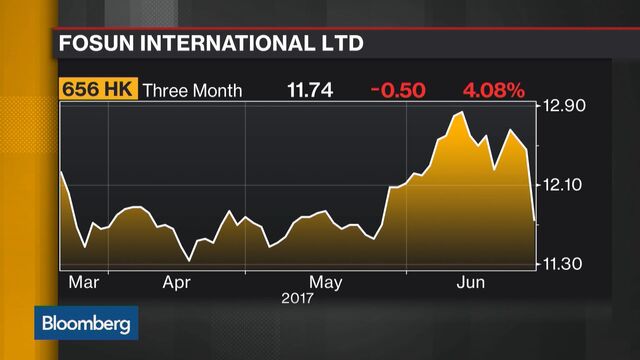 Chinese regulators stepped up scrutiny of the country's most prolific overseas acquirers, asking banks to report their exposures to the companies after last year's unprecedented outbound takeover spree.
The China Banking Regulatory Commission asked some banks to provide information on overseas loans made to Dalian Wanda Group Co., Anbang Insurance Group Co., HNA Group Co., Fosun International Inc. and the owner of Italian soccer team AC Milan, according to people familiar with the matter.
The inquiries, which come a week after reports of an investigation into Anbang's chairman, are likely to put a further chill on China's outbound takeovers after tighter capital controls cut deal activity this year by 56 percent from the same period in 2016. By targeting some of the country's most powerful tycoons, Xi Jinping's government may be sending a signal of its commitment to cleaning up the financial system before a key Communist Party leadership reshuffle later this year.
"We are now in an environment where preventing financial risks is lifted as the top priority, so I think the regulators are trying to gauge the total exposure," said Wei Hou, a Hong Kong-based analyst at Sanford C. Bernstein. "Regulators must have seen some red flags."

As news of the CBRC's request spread through China's financial markets on Thursday, shares of companies linked to Wanda and Fosun tumbled and the Shanghai Composite Index erased an early gain. The turbulence came less than 36 hours after MSCI Inc. said China's domestic equities would join its benchmark indexes, a stark reminder for international money managers of the risks in a market where opaque regulatory decisions are commonplace.

Zhiqing Liu, a deputy director at the CBRC, declined to comment on specific companies at a briefing in Beijing on Thursday, while saying that the regulator is generally concerned with systemic risks posed by big firms. Fosun spokesman Chen Bo said "all is normal" at the company. Representatives at Anbang and Wanda declined to comment, while HNA didn't immediately comment. A representative for AC Milan's owner didn't return calls seeking comment.
The CBRC required banks to provide information on loans related to the five companies' overseas investments, especially in property, cinemas, hotels, entertainment businesses and sports clubs, people familiar with the matter said. Banks need to submit their assessment of potential risks for such investments and any measures they have in place to deal with risks, the people said.
Read more: Anbang's deal spree leaves it with these assets around the world
HNA has announced more than $30 billion of asset purchases since last year, according to data compiled by Bloomberg, ranging from from stakes in hotel operator Hilton Worldwide Holdings Inc. to asset manager SkyBridge Capital and Deutsche Bank AG. Wanda has spent more than $10 billion, including the purchase of Hollywood film producer Legendary Entertainment, since 2016. Fosun, which owns stakes in Club Med and Cirque du Soleil Inc., has also been pursuing billions of dollars of assets overseas. Anbang's international holdings include New York's Waldorf Astoria hotel.
"The regulator might be reining in leveraged buyouts as the companies have been very aggressive," said Yin Ming, vice president of Shanghai-based investment firm Baptized Capital.
Deals Sputter
Chinese policy makers have already made it more difficult for acquirers to move money overseas as the government tries to stem capital outflows and prop up the yuan. The curbs have contributed to a spate of canceled deals, including the $1 billion purchase of Dick Clark Productions Inc. by billionaire Wang Jianlin's Wanda. This year's drop in announced deals is the biggest for a comparable period since the depths of the global financial crisis in 2009, according to data compiled by Bloomberg.
The focus on banks' exposures to foreign acquisitions comes against a backdrop of tightening financial conditions in China and a regulatory crackdown on risky behavior by banks, shadow-lending institutions and insurers.
Anbang's Chairman Wu Xiaohui faces questions in a probe that includes looking into the sources of funding for Anbang's overseas acquisitions, possible market manipulation, and "economic crimes," people familiar with the matter have said. The investigation doesn't mean Wu is accused of any crime or will face charges, the people said. Anbang said last week that Wu was unable to perform his duties for personal reasons.
Read more: A QuickTake Q&A on Anbang's woes
"The CBRC investigation on overseas loans is part of the banking regulator's recent moves to control the overall risks in the financial markets," said Shujin Chen, chief financial analyst at Hua Tai Securities Co. Ltd. in Hong Kong. "Regulators seem to be worried about the the pace and quality of some overseas acquisitions. The investigation is a signal that China may tighten the overseas loan issuance going forward."
Shares of billionaire Guo Guangchang's Fosun and related companies tumbled in Hong Kong, mirroring a similar rout at units of Wanda. Fosun International fell as much as 9.6 percent, while Shanghai Fosun Pharmaceutical Group Co.'s dropped as much as 7.8 percent.
Wanda Film Holding Co. tumbled as much as 10 percent in Shenzhen, its biggest loss since January 2016, before its shares were suspended from trading. Wanda Properties International Co.'s 2024 notes plunged as much as 10.7 cents on the dollar to 101 cents in morning trading in Hong Kong, the biggest drop on record, according to Bloomberg-compiled data.
"I don't think it's the right time to invest or buy into these companies," said Alex Wong, a director of asset management at Ample Capital Ltd. in Hong Kong. "Sometimes this kind of event can accelerate very quickly."
— With assistance by Steven Yang, Prudence Ho, Jun Luo, Daniele Lepido, Amanda Wang, Jeanny Yu, and Jing Yang De Morel
Before it's here, it's on the Bloomberg Terminal.
LEARN MORE