markets
Buffett's Home Capital Bet Helps Spur Rally in Canadian Dollar
By
Loonie advances most in a week, beating all major peers

Currency also supported by better-than-expected retail sales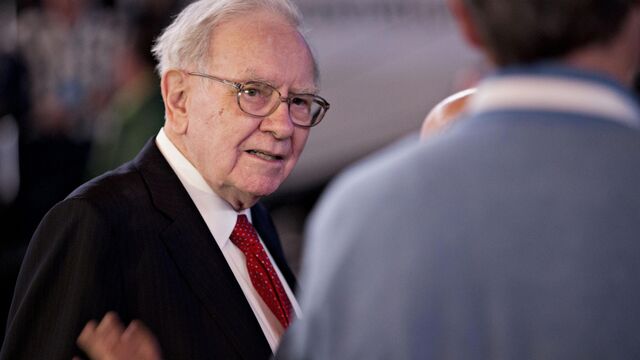 Warren Buffett's rescue of beleaguered alternative mortgage lender Home Capital Group Inc. is helping the Canadian dollar outperform all major currencies on Thursday.
The loonie rose 0.8 percent to C$1.3233 against the U.S. dollar at 11:37 a.m. in Toronto, the top performer among 16 majors tracked by Bloomberg. A report by the government statistics agency that showed Canada's April retail sales exceeded expectations also boosted the currency's appeal, although it's still the second-worst performing major this year.
Berkshire Hathaway will buy a 38 percent stake for about C$400 million ($302 million) and provide a C$2 billion credit line to backstop Home Capital. That gives the currency a reprieve after hedge funds and other speculators pushed net short positions to an all-time high last month. There had been speculation gains in the country's real estate market were unsustainable and elevated levels of debt pose a risk to stability.
"The Home Capital news should temper some of the bearish bets that have accumulated against the Canadian dollar in recent weeks," said Shaun Osborne, chief foreign-exchange strategist in Toronto at Bank of Nova Scotia. "Those still significant shorts must be feeling very uncomfortable."
Helps Sentiment
Home Capital shares jumped 12 percent to C$16.66 in Toronto. Berkshire agreed to pay an average price of C$10 a share, a 33 percent discount to Wednesday's closing price of C$14.94, becoming its largest shareholder.
"The news certainly helps sentiment," said Derek Halpenny, a London-based head of European markets research at MUFG. "But Canadian dollar performance of late is certainly generally being fueled by the relative macro story."
Bets for interest-rate increases in Canada jumped last week after Bank of Canada Senior Deputy Governor Carolyn Wilkins signaled it may be time to consider a bump in rates given the "impressive" growth in the economy.
Further supporting the Canadian dollar, crude oil stabilized after falling into a bear market earlier this week. West Texas Intermediate for August delivery rose 32 cents to $42.85 a barrel on the New York Mercantile Exchange.
Home Capital shares have tripled since bottoming in May, though they're still down about 70 percent down from their peak in 2014. Company directors said on a conference call Thursday the focus on the deal with Berkshire was to restore investor and capital markets confidence.
"The rescue removes the last vestige behind this strange notion of a Canadian financial crisis," said Sebastien Galy, a New York-based macro strategist at Deutsche Bank AG.
Before it's here, it's on the Bloomberg Terminal.
LEARN MORE