markets
Buffett Poised for Immediate Home Capital Gain on Equity Kicker
By , , and
Home Capital shares surge after Berkshire rescue package

Buffett seeks opportunity when there's 'panic in the markets'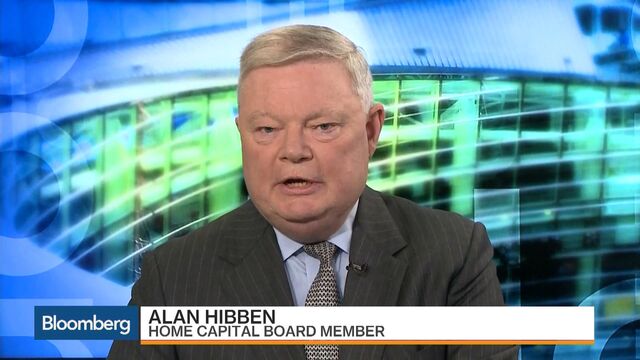 Warren Buffett's lifeline to Canada's Home Capital Group Inc. comes with a sweetener that could juice his returns: discounted stock in the embattled lender.
His Berkshire Hathaway Inc. is providing a C$2 billion ($1.5 billion) credit line at 9 percent interest, under a deal announced late Wednesday. Omaha, Nebraska-based Berkshire also agreed to acquire 38 percent equity stake for about C$400 million, or C$10 at share, which will make Buffett the company's largest stockholder.
The shares jumped 13 percent to C$16.85 at 10:54 a.m. in Toronto. At that price, the equity stake would be worth C$674 million, a gain of more than 68 percent, though Buffett has to wait to get the shares.
Buffett's ability to provide capital fast -- his company had more than $96 billion in cash as of March 31 -- has made him an obvious source of funding for desperate companies. "Berkshire is the 800 number when there's really sort of panic in markets," he said in 2013, referring to digits used for toll-free telephone calls in the U.S. and Canada. His vote of confidence is also valuable, meaning he can demand attractive terms, as he's done with companies from Goldman Sachs Group Inc. to Bank of America Corp. when investor confidence sagged.
"There's nothing out there for free," said Ian Nakamoto, an equity specialist at Raymond James Financial Inc. "There's got to be a price to be paid by Home Capital, but I think the price is more than reasonable to get that stamp of approval."
Alan Hibben, a director at Home Capital, said Thursday on a conference call that alternative offers weren't as attractive, without identifying other potential investors or providing specifics about their proposals. Hibben cited Berkshire's reputation and stressed the importance of a deal that gives assurances to the market and customers.
'Some Validation'
"Let's provide some validation to the company, and its business model and its portfolios through someone who everybody out there could look at and say, 'that is a smart investor,'" Hibben said.
The company drew interest from the likes of Onex Corp., Brookfield Asset Management Inc., Catalyst Capital Group and others, according to people familiar with the matter. Home Capital was also in discussions with Canada's major banks about refinancing its line of credit. Catalyst, for example, offered to refinance Home Capital's C$2 billion line of credit at better terms, provide as much as C$4 billion to recapitalize the company with its financial partners and provide a management team, one of the people said. The Onex and Brookfield interest wasn't viewed as seriously, the people said.
Ultimately, Home Capital determined that the Berkshire proposal offered the greatest value to shareholders, in part, because it lent Buffett's name as an investor, another one of the people said. The billionaire didn't immediately return a message seeking comment. Representatives for Home Capital, Brookfield and Catalyst declined to comment. A representative for Onex wasn't immediately available. 
'Possible Kicker'
Buffett is known for demanding equity stakes in companies when he makes loans. For instance, when he propped up Goldman Sachs in the credit crisis with $5 billion at 10 percent interest, Berkshire also got warrants that he later exchanged for more than $2 billion of the bank's stock in a cashless transaction.
"I wouldn't have done the deal without them throwing in the warrants," Buffett said in a Bloomberg Television interview in 2009. "I not only wanted a good yield, but I wanted a possible kicker."
Home Capital is seeking to use a so-called "financial hardship" exemption for distressed companies to avoid an immediate shareholder vote on the investment. Typically, issuing more than 25 percent of the company's outstanding common shares would trigger a vote. Under the terms of the deal, Berkshire will get a stake of almost 20 percent later this month, and the second tranche will be subject to a vote, probably at a shareholder meeting in September, Home Capital said.
'Dangerous Place'
Hibben was asked on the call about his level of confidence whether shareholders will approve the second sale of shares, especially after an increase in the stock price. He said the board views the dual transactions as a package deal and is recommending shareholder approval. He also said Home Capital had to act quickly.
"The world is a dangerous place, and we've already seen what happens to a company like ourselves when there's a crisis of confidence," Hibben said. "We don't know what's going to happen in the future. We don't think there's going to be a near-term recession in Canada, but eventually there will be one."
— With assistance by Doug Alexander, Katia Dmitrieva, and Noah Buhayar
Before it's here, it's on the Bloomberg Terminal.
LEARN MORE