charted
Boeing Tramples Airbus
For four years Airbus has dominated the order war at the industry's premier event, but this year Boeing delivered its fastest-selling new model ever.
By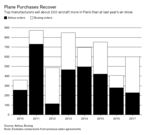 Demand for airliners at this week's Paris Air Show rebounded from a six-year low at the mid-2016 industry event in Farnborough, England, after a stretched version of Boeing's 737, called the Max 10, became the U.S. planemaker's fastest-selling new model ever. Boeing's orders almost tripled from last year's show in the U.K. and dwarfed figures at Airbus, which has been hobbled by engine problems on its new A320neo lineup.
Before it's here, it's on the Bloomberg Terminal.
LEARN MORE