Your Evening Briefing
Bloomberg News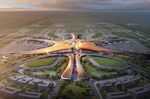 Rising on a plain south of Beijing, the world's largest airport - opening in 2019 - is set to be "an absolute game-changer" for China's major airlines. And aviation isn't the only industry facing a major shake-up. Textiles used to be a labor-intensive business, but as factories become increasingly automated, the manufacturing jobs that helped China scale the economic ladder may not be available to countries such as Bangladesh and Myanmar. China's economy - and its stock market- are now so big that the rest of the world can't afford to ignore it. Meanwhile, the future looks decidedly less clear for Asia's poorer nations. —Alyssa McDonald
Investors flee from billionaire Wang Jianlin's Wanda. The conglomerate owned by China's second-richest man was in focus Thursday as the shares and bonds of its units plunged. The group said the rout may have been caused by speculation that banks were issuing notices they will sell Wanda bonds. The rumor is false, Wanda said. 
America is now a 'second tier' country. America may lead the world when it comes to access to higher education. But on health, environmental protection and fighting discrimination, it trails many other developed countries, according to the Social Progress Imperative, a U.S.-based nonprofit. Scandinavian countries hold the first four of 128 slots, while Australia, New Zealand and Japan all make the Top 20.
Hong Kong's gambling empire is losing horsepower. The Hong Kong Jockey Club has been called an "ATM for the government" for its huge contributions to the city's tax coffers and charity efforts. But now it's facing trouble. Disinterest among many young people and an upcoming bridge link to the glittering casinos of Macau threaten the future of the money-spinning gambling monopoly.
What this Thai tennis coach can teach you about investing in emerging stocks. Samak Srisarakham grew up sleeping in bare-bones communal bedding next to a tennis court. Thirty years later, he owns three properties, and his daughters attend an international school. It's a perfect illustration of what former Goldman Sachs Asset Management Chair Jim O'Neill calls "the biggest story in the world" when it comes to investing: the rise of the emerging-market consumer.
Indian women are becoming better off. But it's not all good news. India is getting richer, which means more mobile phones, bank accounts and schooling for women. But other signs of female empowerment remain patchy. The ratio of male-to-female births is still above the natural rate, suggesting some families are choosing not to have daughters. And in rural areas, girls often face "a cluster of disadvantages."
Australians are buying more cars than ever. Motor-vehicle sales hit a record monthly high of more than 100,000 vehicles in May, despite warnings about weak consumer spending from the central bank and economists. But while wage growth is low and household debt high, perhaps things aren't so bad, and Aussies are getting used to tight-fisted employers. Cars are among the goods that have been getting cheaper in recent years, according to the Commonwealth Bank of Australia's securities unit.
Porsche, Jaguar or Mercedes. What's the best sport coupe? We tested a trio of the sleekest sports cars on the market for style, handling, speed and comfort. Here's how they stacked up.

Before it's here, it's on the Bloomberg Terminal.
LEARN MORE