markets
Vanke's Wang Exits After Tussle Over China's No. 1 Developer
Bloomberg News
Chairman exits after white knight emerges in ownership tangle

33 years after founding firm, Wang hands 'baton' to Yu Liang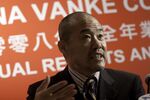 Wang Shi, who built China Vanke Co. into the country's biggest developer after founding it 33 years ago, stepped down as chairman after an ownership tussle that ended with a state entity becoming its biggest investor.
The exit of the 66-year-old Wang comes after metro line builder Shenzhen Metro Group Co. emerged as a white knight last year and did a deal this month to boost its shareholding. Statements from Vanke and its founder didn't make it clear whether he was severing all ties.
"One key question is whether Wang Shi's departure is clear-cut -- or whether he will still play some role as a consultant or adviser," said Kristy Hung of Bloomberg Intelligence.
The twist comes just as the nation's biggest developer by market value is seemingly set for a new phase of stability after a tussle that Vanke said threatened projects, contracts and the firm's credit profile. In 2016, Vanke ceded its top position for contracted sales to rival China Evergrande Group and it now sits behind Country Garden Holdings Co. in 2017.
Unlike his counterparts at big Chinese rivals, Wang doesn't have a controlling stake in the company. That left the field wide open for the raid in 2015 by Baoneng Group.
Younger Team
On WeChat, Wang, a high profile businessman with a big public following, said that he was handing "the baton" to the younger team of President Yu Liang, 52. Wang's name was missing from a list of board nominees that included Yu.
"Wang has largely kept his hands off the firm's day-to-day management since Yu Liang took the role of president, so it's natural for him to abdicate in favor of executives actively involved," said Danielle Wang, a China property analyst at DBS Vickers Hong Kong Ltd.
"But he will definitely remain as Vanke's spiritual leader, like a consultant or think tank," DBS's Wang said. "I'm sure Yu Liang can still turn to him when he needs advice."
Vanke's share price in Hong Kong has fallen 8 percent since Yu said in December 2015 that the company faced a hostile takeover from Baoneng, a slump that compares with gains of 139 percent and 184 percent for China Evergrande and Country Garden, respectively. On Wednesday, Vanke's stock gained 1 percent in Hong Kong as of 3:26 p.m. local time.
Army Veteran
Wang, a veteran of the People's Liberation Army, founded Vanke in Shenzhen as a trading firm before it became a real estate juggernaut. Vanke listed in Shenzhen in 1991 and Hong Kong in 2014. From December 2015, the company was embroiled in China's most high-profile corporate battle, involving a tangled web of state-owned shareholders, competitors, and a hostile predator.
In past years, Wang was a role model for entrepreneurs who flocked to his motivational speeches and devoured his books. His micro blog has almost 24 million followers and he's been known for his personal feats and style, climbing the highest peaks on seven continents, and featuring on the cover of GQ China. 
Shenzhen Metro will have a 29.4 percent shareholding after agreeing this month to buy a stake in Vanke from China Evergrande. The Shenzhen firm said it hopes Vanke will continue with its existing strategy and operations under Yu's leadership. Vanke said Wednesday that three Shenzhen Metro executives were nominated to its board: Chairman Lin Maode, General Manager Xiao Min and Chief Financial Officer Chen Xianjun.
Shareholders' Meeting
Baoneng owns 25 percent of Vanke and can start selling on July 6 when a lock-up ends, according to Bloomberg calculations based on Chinese securities regulations that can prevent a listed firm's biggest shareholder from selling down within a year of its last purchase.
Shareholders are due to vote on the board at an annual meeting on June 30, after directors' terms expired in March.
Of those nominated for the 11-strong board, six people are from Vanke and Shenzhen Metro and at least two are from companies backed by Shenzhen's state-owned assets supervisor, the entity which owns Shenzhen Metro.
— With assistance by Emma Dong
Before it's here, it's on the Bloomberg Terminal.
LEARN MORE