U.S. Seeks China's Help on North Korea, Ignoring Trump Tweet
By
China 'continues to work these issues,' Mattis tells reporters

Tillerson and Mattis press on after Trump says efforts failed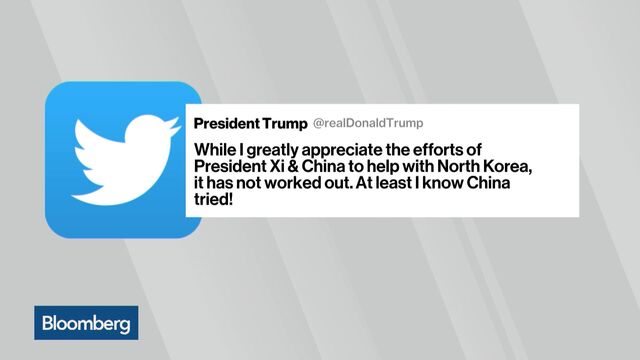 Two of President Donald Trump's top cabinet secretaries said China still has a crucial role to play in pressuring North Korea to give up its nuclear ambitions, in effect disregarding his tweet that Chinese efforts had failed.
Speaking alongside Defense Secretary Jim Mattis after meetings with Chinese counterparts in Washington on Wednesday, Secretary of State Rex Tillerson said China must "exert much greater economic and diplomatic pressure on the regime if they want to prevent further escalation in the region." Mattis echoed that, saying China "continues to work these issues."
Their remarks were a departure from a Twitter posting on Tuesday in which Trump suggested the U.S. was moving on to other options to confront North Korean leader Kim Jong Un's regime. "While I greatly appreciate the efforts of President Xi & China to help with North Korea, it has not worked out," Trump wrote. "At least I know China tried!"

Read More About How North Korea Defies the World With Its Nuclear Ambitions
"I do like president Xi," Trump said Wednesday night at a rally in Cedar Rapids, Iowa. "I wish we would have a little more help with respect to North Korea from China. But that doesn't seem to be working out. But I do like the president a lot."
Since Trump took office, he and his Cabinet have said the key to reining in Kim is China, which provides most of North Korea's food and fuel imports. After meeting Chinese President Xi Jinping in early April, Trump said he was dialing back his hard-line approach to China on trade because he was convinced of Xi's commitment to address North Korea.
Trump's tweet and the remarks from Tillerson and Mattis were only the latest example of mixed messages between the White House and the departments of State and Defense over key foreign policy issues in recent days.
Qatar, Russia
After Trump sided with Saudi Arabia over a dispute with Qatar, the Defense Department emphasized its close ties to that nation, where the U.S. has a major air base. And Tillerson's spokeswoman issued a sharply worded statement Wednesday on Russia's decision to call off talks with the U.S. over new Treasury Department sanctions, even though Trump has declined to criticize President Vladimir Putin.
The talks held Wednesday at the State Department with State Councilor Yang Jiechi and People's Liberation Army Chief of Joint Staff Fang Fenghui were part of the new U.S.-China Diplomatic and Security Dialogue, a forum aimed at addressing key disputes between the world's two largest economies, as well as security issues where they can work together.
The two sides agreed to keep working to curtail North Korea's nuclear and ballistic missile programs. Tillerson is weighing a possible ban on travel by U.S. citizens to the country.
U.S. and China both said in Wednesday's talks that their companies shouldn't be allowed to do business with North Korean entities covered under United Nations sanctions. But Trump is weighing whether to impose secondary sanctions against businesses that work alongside such entities -- a punishment that would primarily target Chinese firms.
"We must step up our efforts to curtail these sources of revenue," Tillerson said. "Countries around the world and in the U.N. Security Council are joining in this effort, and we hope China will do their part as well."
Wambier's Death
The discussions between the U.S. and China gained new urgency with the June 19 death of Otto Warmbier, a 22-year-old American college student who had been arrested and sentenced to 15 years of hard labor after allegedly trying to steal a propaganda banner during a trip to North Korea in 2016. Warmbier was returned to the U.S. last week in a coma.
Asked about Trump's tweet and whether the administration thinks China isn't able to make North Korea change its ways, Mattis said the president's remarks represent the views of the American people.
"We see a young man go over there healthy and, with a minor act of mischief, come home dead basically, die immediately after he gets here," Mattis said. "What you're seeing I think is the American people's frustration with a regime that provokes and provokes and provokes and basically plays outside the rules, plays fast and loose with the truth."
China has also pushed back against Trump's tweet, saying its efforts on North Korea have been "indispensable."
China has "played an important and constructive role" in seeking peace on the Korean peninsula, Foreign Ministry spokesman Geng Shuang told reporters in Beijing. China strictly implements UN Security Council resolutions and isn't the crux of the North Korean issue, he said.
Before it's here, it's on the Bloomberg Terminal.
LEARN MORE