markets
U.S. Beckons Canada Oilfield Supplier to Fund Permian Growth
By
Will explore bond sale in the fall after pulling Canada deal

Looks to show investors it's more than a Canadian oil driller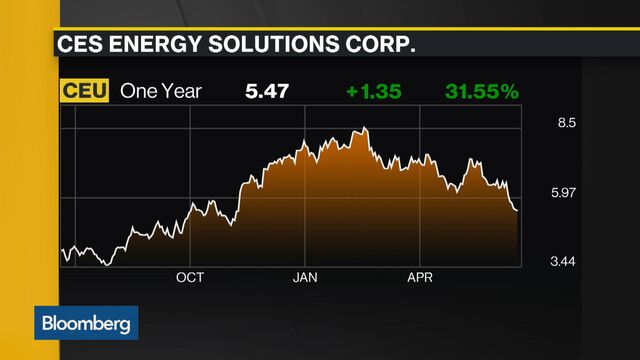 CES Energy Solutions Corp., which withdrew a Canadian dollar-bond sale this year, is looking to U.S. debt markets to finance growth in its drilling-fluid business.
The Calgary-based firm had attempted to sell high-yield debt in March when oil was above $50 a barrel, but pulled the offer as it didn't get the rate it wanted. Fresh off a name change, it's now in talks with banks and could try as early as this fall to refinance C$300 million ($226 million) of 7.375 percent 2020 bonds, said Chief Financial Officer Craig Nieboer.
"Our business is doing much better but obviously the tape on oil price and equity valuations and the debt market isn't very positive right now," Nieboer said by phone from Calgary on Monday, without ruling out a local-currency debt sale. "We'll be patient."
Since CES's aborted sale, Parkland Fuel Corp. has been the only high-yield issuer to price a Canadian-dollar deal and further woes loom as oil entered a bear market. However, U.S. bonds make sense for CES because it has most of its business south of the border, with half concentrated in the Permian Basin.
Image Overhaul
While CES is for now funneling cash into its business -- it posted its first quarterly net profit since 2015 as oil prices recovered -- Nieboer is also keeping an eye out for M&A opportunities. That could be anything from a C$5 million tuck-in to more than C$100 million, he said, following the acquisition of Catalyst Oilfield Services LLC last year.
"We want to stick to an asset-light chemical and science-backed solution, whether they be in Canada or the U.S., and we see lots of niche players with interesting technologies we could scale probably faster on our platform," he said.
To be sure, oil on Tuesday entered the first bear market since August and the Permian Basin could operate at a lower price, suggesting further downside risk, he said. West Texas Intermediate was $43.61 a barrel at 9:06 a.m. in New York. Oilfield drillers have struggled more than exploration and production companies in this environment. CES's desire to differentiate itself from Canadian oilfield service drilling companies was one of the reasons it changed its name last week from Canadian Energy Services & Technology Corp., Nieboer said.
"We have a production chemical business that will make money in all cycles," he added.
— With assistance by Steven Frank
(
Updates with oil price in penultimate paragraph.
)
Before it's here, it's on the Bloomberg Terminal.
LEARN MORE