Theresa May Says Scotland Could Get Separate Vote on Brexit Law
By
London, Edinburgh discuss if Repeal Bill needs Scots' consent

Bill ends role of European court, repeals thousands of EU laws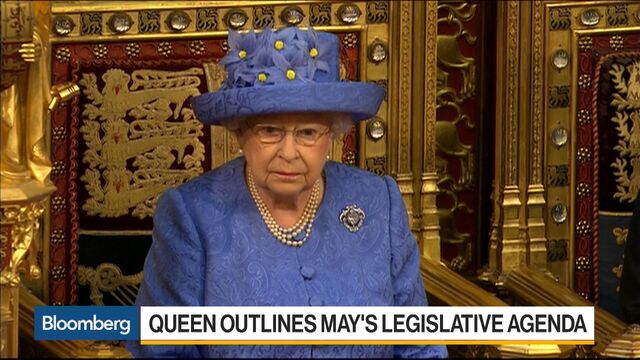 Follow @Brexit for all the latest news, and sign up to our daily Brexit Bulletin newsletter.
Lawmakers in Scotland could be given a separate vote on Theresa May's Brexit legislation, potentially adding a new layer of complexity to the prime minister's plans for taking Britain out of the European Union.
May said her officials are in talks with their counterparts in Scotland over whether the Edinburgh parliament will be legally required to give its consent to the so-called Repeal Bill, which paves the way for Brexit. The bill will overturn more than 80,000 pieces of EU law that apply across Scotland as well as England, Wales and Northern Ireland -- covering everything from trade to workers' rights.
These laws will then be replicated in U.K. legislation, to avoid a legal black hole on the day Britain leaves the EU in March 2019, under the bill, which was announced in Wednesday's Queen's Speech. The bill will also repeal the 1972 law that took Britain into the EU and end the jurisdiction of the European Court of Justice in the U.K.
Scotland has its own powers of self-government through the Scottish Parliament in Edinburgh. This means the local Edinburgh parliament could be required to pass a motion giving its formal consent to the U.K.-wide parliament in London to take the final decision on the bill. 
'Complicated Matters'
"There is a possibility that a legislative consent motion may be required in the Scottish Parliament," May told the House of Commons on Wednesday. "That is a matter that is being considered currently between the Westminster and the Scottish government," she said.
Allowing a vote in Scotland -- and potentially the devolved bodies in Wales and Northern Ireland -- would further complicate May's Brexit plans. She already faces a battle to get support for her proposals for a clean break from the EU in Parliament, after failing to win a clear mandate for her Brexit vision in an election earlier this month.
The Scottish National Party and Scottish Greens, which oppose Brexit, have a majority in the semi-autonomous assembly in Edinburgh. In February, the Scottish Parliament backed a symbolic motion rejecting May's decision to trigger the start of Brexit under Article 50 of the EU's Treaty.
Speaking to reporters later, May's spokesman James Slack said discussions were under way "to work out whether a consent motion is required -- these are complicated legal matters."
Before it's here, it's on the Bloomberg Terminal.
LEARN MORE