Australians May Not Like Trump, But They Value the U.S.
By
Lowy Institute Poll shows 77% see U.S. as key security ally

China increasingly seen as military threat, survey shows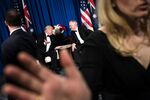 Australians may not like Donald Trump but they still value strong relations with the U.S., amid mounting perceptions that China poses a military threat, according to a poll released Wednesday.
Sixty percent of Australians say Trump has caused them to have an unfavorable opinion of the U.S., according to the 2017 Lowy Institute Poll, which surveys Australian attitudes on geopolitical trends. Still, 77 percent say the alliance is important for Australia's security -- up 6 percentage points from last year.
Almost half of respondents, or 46 percent, said it is likely China will become a military threat to Australia in the next 20 years, up seven points since 2015, according to the poll.
"Australians have come to terms with the Trump presidency and support for the alliance remains strong," Michael Fullilove, executive director of the Sydney-based think tank, said in a statement. "However, the relationship is certainly not unaffected by Mr. Trump. The president is not popular in Australia. And Australians' trust in the U.S. to act responsibly has declined."
Australia has long sought to find a balance between supporting its key strategic ally, the U.S., while engaging with China, its biggest trading partner. That balancing act has become more complicated since Trump was elected president, and amid Beijing's military build-up in the South China Sea.

Ties with the U.S. suffered a jolt in February when Trump blasted a refugee resettlement arrangement with Australia, agreed to by former President Barack Obama, calling it a "dumb deal" in a late-night tweet. While Trump and Prime Minister Malcolm Turnbull have since insisted relations are solid, leaked footage of a speech delivered to hundreds of journalists and lawmakers last week showed the Australian leader lampooning the president and alluding to a U.S. probe into election campaign links with Russia.
The Lowy poll shows the number of Australians who greatly trust the U.S. to act responsibly in the world has halved to 20 percent since 2011. The number who rate the U.S. as Australia's best friend in the world has halved since 2014 to 17 percent.

When asked which relationship is more important to Australia, 45 percent said the U.S. and 43 percent China, according to the poll. Lowy said that was a statistical tie, given the poll's margin of error.
Other trends revealed in the survey show:
New Zealand is Australia's best friend, up 21 points since 2014 to 53% compared with the U.S. and U.K. on 17%
78% believe globalization is "mostly good" and 67% think free trade improves their standard of living
While 79% feel safe, 68% see international terrorism as a critical threat to Australia's vital interests; 65% see North Korea's nuclear program as a critical threat, with climate change at 57%
79% are dissatisfied with the direction of the world, and 48% are dissatisfied with the nation's direction
The poll, conducted between March 1-21, surveyed 1,200 Australian adults.
— With assistance by Kimberley Painter
Before it's here, it's on the Bloomberg Terminal.
LEARN MORE