Travis Kalanick Says He's Leaving for the Sake of Uber
Bloomberg News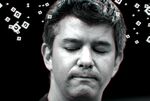 Good morning! In case you tucked in early on the left coast: Uber CEO Travis Kalanick resigned last night. Some might say the writing was on the wall, after he took an open-ended leave of absence following personal tragedy and turmoil at the ride-sharing company. Others were shocked that Tenacious T eased his grip on the company that he helped to build into a transportation behemoth.
Ultimately, investors decided it was time for Kalanick to go. No one doubted the CEO's love for Uber and in the end, he said that was the reason why he left: "I love Uber more than anything in the world and at this difficult moment in my personal life I have accepted the investors request to step aside so that Uber can go back to building rather than be distracted with another fight." Travis 2.0, we hardly knew ya.
Sign up to receive the Fully Charged newsletter in your inbox, and follow Bloomberg Technology on Twitter and Facebook for more.
And here's what you need to know in global technology news
In other news, Uber is adding a tipping feature to boost morale. The reversal comes as part of the company's "180 Days of Change" policy, as it seeks to improve relations with drivers and its own image.
Amazon conquered your bookstore, then your supermarket. Now your closet too? The e-commerce giant announced yesterday that it's entering the fashion subscription box business with Prime Wardrobe. Customers pick apparel items to fill their boxes and then ship back anything they don't want.
Apple and Qualcomm continue to feud. The iPhone maker said there was "mounting evidence" that its chip supplier has an "illegal business model" as part of a lawsuit between the two firms. Apple alleges that Qualcomm has an unfair royalty system.
Facebook's Oculus fights a sales ban. The social media giant wants a U.S. judge to allow it to continue selling its VR headsets, after a jury said Oculus stole computer code from another company.
South Korea bets on the Hyperloop. A consortium licensed hyperloop technology to link Seoul with Busan at near-supersonic speeds.
Here's a whole new meaning to "Made in China." As wages and labor shortages go up in China, more factories are becoming automated.
Samsung's Note 8 may be announced in August.  Let's hope this product won't go the way of its predecessor.  
Before it's here, it's on the Bloomberg Terminal.
LEARN MORE