Tetangco Bows Out With Philippine Prices Tamed, Fast Growth
By
Central bank governor to retire in July after 12 years

Successor faces risks of weaker currency and rising prices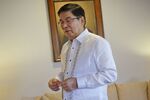 Amando Tetangco saw inflation surge to almost 11 percent and economic growth plunge to as low as 0.5 percent during his term as Philippine central bank governor. As he oversees his final rate meeting on Thursday, price gains are about a third of that and the economy is booming.
In his 12-year stint, Tetangco boosted reserves, reined in inflation, kept the currency stable and transformed the economy into among the world's fastest-growing. Bangko Sentral ng Pilipinas held its benchmark rate at a record low 3 percent on Thursday, as predicted by all economists in a Bloomberg survey.
"Bangko Sentral is one of the most well-respected and credible central banks in the region," said Michael Wan, an economist at Credit Suisse Group AG in Singapore. "Tetangco is to be credited for that. He has provided a very firm foundation for inflation targeting and built up strong buffers for the economy."
Tetangco adopted dramatic reforms including transitioning to a rate corridor in 2016 for greater policy flexibility. He advocated targeted measures --- such as capping property loan collaterals --- a method that addresses specific risks, like asset bubbles, without hurting other parts of the economy.
The 64-year-old outgoing governor, who served under three presidents, has upheld central bank independence and avoided controversies. He was first appointed by Gloria Arroyo in 2005 and retained by Benigno Aquino in 2011.
Moral Suasion
A shooting enthusiast and car lover, Tetangco perfected the use of moral suasion: the art of influencing market behavior with his words rather than direct intervention. He also built the central bank into one of the most predictable in Asia, with policy makers including his deputies flagging the outlook for months in advance.
His other accomplishments include successfully pushing for a law that eased rules on foreign ownership of banks, boosting their capital and adopting stricter risk management.

The last time annual inflation exceeded the target was in 2008 as oil prices surged. Bangko Sentral met the goal in the succeeding years until 2015 and 2016 when price gains were so muted that inflation fell below the target.
The inflation goal is determined by the central bank and may vary for each year. From 2017 to 2020, the target range is 2 percent to 4 percent.

Tetangco has kept rates steady since 2014 as the economy expanded more than 6 percent. In contrast, others in the region such as Indonesia and Malaysia have loosened monetary policies.
While economists predict the Philippines will be among the first to increase rates in the region this year, Tetangco's successor Nestor Espenilla said in May the bank isn't in a race to raise rates. Inflation is expected to ease after peaking in the third quarter and remain in the target range in 2017, the deputy governor said.
Click to read the interview with the incoming governor
"A rate hike will likely be the first policy move under the new central bank governor," said Gundy Cahyadi, an economist at DBS Holdings Ltd. in Singapore, who predicts it may come as early as August. "The upward trend in inflation, particularly core inflation, persists."
More Time
The economy faces risks including a weaker peso as the U.S. tightens policy. The currency has lost almost 8 percent in the past 12 months to become Asia's worst performer. The central bank also predicts the nation will post its first current account deficit in 15 years in 2017.
Tetangco, who retires on July 3, said he plans to visit his daughter in the U.S. and travel to places including Iceland to see the Northern Lights.
"I'm looking forward to that time," the nation's longest-serving governor, who had a heart bypass operation in 2010, said in an interview in April. "I can wake up late, spend more time with my wife and children."
— With assistance by Cecilia Yap, and Shamim Adam
Before it's here, it's on the Bloomberg Terminal.
LEARN MORE