business
South Sudan Food Security Situation Worsens on War, Poor Harvest
Okech Francis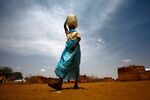 South Sudan's food-security situation deteriorated this month because of continuing conflict, a poor harvest and surging inflation, with half the population facing hunger, the head of the country's statistics office said.
More than 6 million people are expected to be "severely food-insecure," this month and next, compared with 5.5 million in May, National Bureau of Statistics Chairman Isaiah Chol Aruai told reporters Wednesday in the capital, Juba. Famine is no longer occuring in two states, Leer and Mayendit, while further shortages were avoided in Koch and Panyijar, he said.
"Even though no county has been declared under famine, the situation continues to be very critical," Aruai said.
A civil war that began in South Sudan in December 2013 has left tens of thousands of people dead, forced more than 3.5 million to flee their homes and caused economic collapse. Inflation in the oil-producing nation surged to 334 percent last month.
Before it's here, it's on the Bloomberg Terminal.
LEARN MORE