South Africa's Top Court to Rule on Zuma Secret-Ballot Vote
By
Legal experts say court unlikely to tell parliament what to do

Zuma ouster unlikely even if vote is secret: analyst Robinson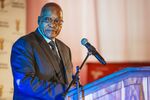 South Africa's top court will rule Thursday whether to order parliament to hold a secret vote on a motion of no confidence in President Jacob Zuma, a move that would enable disgruntled members of the ruling party to back his ouster without the risk of losing their jobs.
The opposition filed the no-confidence motion in Zuma, 75, in April after his decision to fire Pravin Gordhan as finance minister prompted S&P Global Ratings and Fitch Ratings Ltd. to cut the nation's credit rating to junk. The United Democratic Movement petitioned the Constitutional Court after parliamentary speaker Baleka Mbete rejected its argument that since parliament chooses the president by secret ballot, it should be able to use it to remove him.
Zuma, who's been implicated in a succession of scandals since taking office in May 2009, is due to step down as African National Congress leader in December and as president in 2019. While there's mounting discontent over his leadership within the party, which holds a 62 percent majority in parliament, he's thwarted several previous attempts to oust him.
Legal experts, including retired law professor Marinus Weichers, have said the court is unlikely to instruct the legislature how to vote because it won't want to be seen to be infringing on its powers. The opposition says a failure to order a secret ballot will undermine lawmakers' ability to hold the government to account.
The ANC's secretary-general, Gwede Mantashe, and chief whip in parliament, Jackson Mthembu, have said that legislators must vote according to the wishes of the party that elected them rather than the constituents they represent. Under South Africa's electoral system, lawmakers are chosen by their party rather than directly by voters.
"The ANC will be loath to remove their president through supporting an opposition motion, even if it is done by secret ballot, rather than through the party's own internal structures," said Jason Robinson, Africa analyst at Oxford Analytica in the U.K.
The Constitutional Court is due to deliver its decision at 10 a.m. in Johannesburg.
Before it's here, it's on the Bloomberg Terminal.
LEARN MORE