Scalise's Shooter Appears to Have Acted Alone, FBI Says
By
No link to terrorism seen by FBI and motive isn't known

Gunman told family in March he was headed to Washington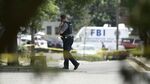 A gunman appears to have acted alone when he opened fire on Republican lawmakers' baseball practice, seriously wounding Representative Steve Scalise, according to the FBI.
"At this point in the investigation, the FBI does not believe there is a nexus to terrorism," the Federal Bureau of Investigation said in a statement.
Scalise, 51, of Louisiana, the third-ranking House Republican, was among four people shot June 14 by a gunman identified as James Hodgkinson, 66, of Belleville, Illinois, who died after a shootout with police. MedStar Washington Hospital Center said in a statement that Scalise's condition has been upgraded to fair and that he "continues to make good progress." The other victims also are recovering from their wounds.
Hodgkinson had with him a piece of paper listing the names of six members of congress, said Tim Slater, special agent in charge of the FBI Washington Field Office's Criminal Division, at a news conference Wednesday in Washington. There's no indication of the significance of the list, Slater said, declining to specify the lawmakers' party affiliations or names. Hodgkinson had done online searches of two of them, Slater said.
Authorities haven't determined Hodgkinson's motive for the attack at the practice for an annual charity baseball game, Slater said. He had posted repeatedly on social media espousing "anti-Republican" views, Slater said, and prior to the shooting, he asked a witness if those practicing were Democrats or Republicans. When the person said they were Republicans, Hodgkinson remained at the baseball field in Alexandria, Virginia, just south of Washington.
He had more than 200 rounds of ammunition in an Alexandria storage unit that he visited more than 43 times between April and June, sometimes twice a day, according to the FBI.
He carried two weapons: a rifle and a handgun, according to Slater, who said the shooting at the ballpark appeared to be "more spontaneous" than planned. He fired more than 60 shots, Slater said.
Hodgkinson appears to have been in the Alexandria area since March, according to the FBI. He'd told a family member he was traveling to Washington without providing any additional information, said Slater. Prior to his trip, local police went to his house in response to complaints he was conducting target practice there but concluded he wasn't breaking the law.
Hodgkinson was living in his vehicle in the parking lot of the YMCA across the street from the baseball field, Slater said.
He was running low on money and his marriage wasn't going well, Slater said. "He was struggling in all kinds of different ways," the FBI official said.
Before it's here, it's on the Bloomberg Terminal.
LEARN MORE