politics
Republican Handel Wins Georgia House Election, GOP Keeps Seat
By
Former Georgia Secretary of State Handel defeats Ossoff

Democrats hoped to capitalize on Trump's low approval ratings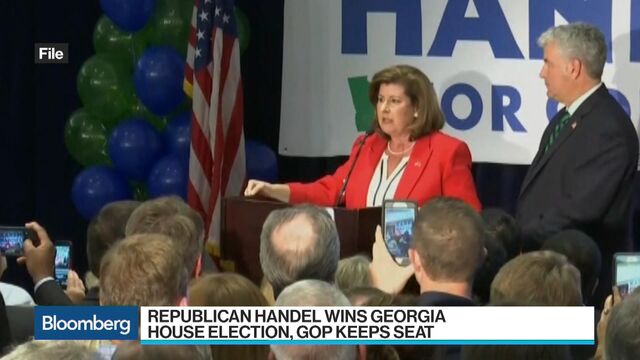 Republican Karen Handel defeated a well-funded opponent in a special election for a U.S. House seat in Georgia, a setback for Democrats who hoped President Donald Trump's low approval ratings would help them win congressional races.
Handel, 55, won in a suburban Atlanta district held by the GOP since 1979 despite raising far less money than Democrat Jon Ossoff, 30, in the most expensive House race in U.S. history. Handel will fill a seat vacated by Tom Price, who was appointed by Trump as Health and Human Services secretary.
Handel won 51.9 percent of votes to Ossoff's 48.1 percent with all precincts reporting, according to the Associated Press.
Handel thanked the president while addressing supporters Tuesday night, prompting chants of "Trump, Trump, Trump" from the crowd. "Tonight, I stand before you extraordinarily humbled and honored at the tremendous privilege and high responsibility that you and the people across the sixth district have given to me to represent you in the United States House of Representatives," she said.
Citing the June 14 shooting at a congressional Republican baseball practice that left House Majority Whip Steve Scalise injured, Handel urged a "more civil way to deal with our disagreements." 
"In these United States of America, no one, no one should ever feel their life threatened over their political beliefs and positions," she said.
Trump Cheers
The result of Tuesday's election likely will embolden Trump and his legislative push to dismantle Obamacare and overhaul taxes. The president raised money for Handel and repeatedly tweeted in support of her candidacy. 
Democrats also lost a special election Tuesday for a House seat in South Carolina vacated by White House budget director Mick Mulvaney. In that race, Republican Ralph Norman had been heavily favored to defeat the Democrat, former Goldman Sachs tax expert Archie Parnell.
Overall, the special House elections held since Trump's inauguration have been closer than Republicans would've expected in the traditionally right-leaning districts.
"Well, the Special Elections are over and those that want to MAKE AMERICA GREAT AGAIN are 5 and O!" Trump said in a tweet after the results were announced. "All the Fake News, all the money spent = 0."
Arm's Length
Handel sought to keep the president at arm's length, although her platform included priorities similar to Trump's. Ossoff avoided attacking Trump in an effort to appeal to voters in the Republican district, focusing his campaign on reducing the deficit, cutting government spending and bringing high-tech jobs to the area. Polls in advance of the election had shown the race virtually tied, within the margins of error.
The president's approval rating was 37 percent in a Gallup poll taken June 17-19 as the Federal Bureau of Investigation and congressional committees investigate possible Trump campaign ties to Russia and whether the president obstructed the FBI's probe.
Handel, a former Georgia secretary of state, raised $4.3 million, according to Federal Election Commission filings. Ossoff, a former congressional staffer, raised $23.6 million.
Despite Ossoff's fundraising advantage, Handel was boosted by $18.2 million in outside spending, including $6.5 million from the House leadership-aligned Congressional Leadership Fund super-PAC and $6.7 million from the National Republican Congressional Committee, according to the Center for Responsive Politics, a nonpartisan research group. 
"Democrats from coast to coast threw everything they had at this race, and Karen would not be defeated," Republican House Speaker Paul Ryan of Wisconsin said in a statement.
Ossoff benefited from just under $8 million in outside spending, including $5 million from the Democratic Congressional Campaign Committee. 
"This is not the outcome any of us hoped for, but this is the beginning of something much bigger than us," Ossoff told supporters Tuesday night.
In spite of Ossoff's loss, Democrats say they have a better chance of winning dozens of Republican-held seats in next year's midterm election. Democrats are seeking to take control of the House, dominated 238-193 by Republicans before Tuesday's vote.
(
Updates margin in third paragraph.
)
Before it's here, it's on the Bloomberg Terminal.
LEARN MORE