markets
Most Indian MPC Members Adopt Cautious Stance on Soft Inflation
By
One member dissents and votes for 50 basis point cut in rates

Governor Patel says any move will be premature at this stage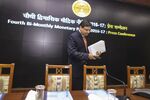 A drop in inflation to a record low was met with surprise by Indian monetary policymakers, with the majority preferring to wait and watch before moving on interest rates earlier this month, according to minutes released Wednesday.
Just one voted for a substantial 50-basis point cut and investors still see the possibility of a rate cut in coming months.
This was the first decision of the monetary policy committee -- which held its initial meeting in October 2016 -- that was not unanimous. Five members were in favor of keeping policy steady, while Ravindra H. Dholakia dissented at the June 6-7 meeting, the minutes from the Reserve Bank of India showed.
India's inflation-targeting central bank, led by Urjit Patel, kept its benchmark repurchase rate at 6.25 percent while maintaining its neutral stance. The move was predicted by all but two of the 50 economists in a Bloomberg survey who expected a cut to 6 percent. The central bank shrugged off slowing growth and vowed to continue to assess whether a drop in inflation to 2.2 percent in May in the $2 trillion economy was transitory.
"Considering the high uncertainty clouding the near-term inflation outlook, there is a need to avoid premature policy action at this stage," Patel said, according to the minutes. "I, therefore, vote for holding the policy repo rate at the current level of 6.25 percent and maintaining the neutral stance of monetary policy."
Below Expectations
The bank's monetary policy committee changed its stance to neutral from accommodative in February, and in April, Patel had said inflation called for "close vigilance" after he surprised markets by raising the reverse repurchase rate in a move to tighten liquidity conditions.
Recent headline inflation prints have consistently come under the central bank's own expectations. The RBI aims to keep inflation near 4 percent in the medium term. After the meeting, the central bank slashed its inflation forecasts and now expects inflation to hover between 2 percent to 2.5 percent in the first half of the financial year ending in March and between 3.5 percent to 4.5 percent in the second half.
The drop in inflation has been mostly driven falling food prices, a higher rupee and a general slowdown in demand in the economy.
These circumstances were enough for MPC member, Dholakia -- the most dovish in the committee -- to argue for a 50 basis point rate cut.
Substantial Cut
"The prevailing inflation and output conditions and prospects are such that there is enough space for a substantial rate cut of 50 basis points if not more," he said. "Becoming too overcautious under such circumstances is against the principle of prudence. In fact, prudence lies in creating space when conditions are favorable and risks are not high than waiting and losing the opportunity."
Deputy Governor in charge of monetary policy, Viral Acharya, however, cautioned against a move in rates arguing that a change might not have the desired impact on the economy especially given the huge bad debt problem facing India's banking sector.
Another RBI official Michael Debabrata Patra also adopted a wait and watch stance, having deliberated over a rate hike in April.
Before it's here, it's on the Bloomberg Terminal.
LEARN MORE