Menendez Judge Seeks Impartial Jury as Corruption Trial Looms
By
Lawyers will begin questioning jurors Aug. 22 in Newark

New Jersey Democrat accused of taking bribes from top donor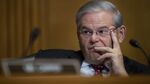 A federal judge on Wednesday began trying to find 16 New Jersey residents who can be fair and impartial jurors in the September corruption trial of U.S. Senator Robert Menendez and a top donor. 
Menendez, a New Jersey Democrat, is accused of improperly seeking to help Florida doctor Salomon Melgen in a Medicare overbilling case, a contract dispute with the Dominican Republic and with visa applications for three girlfriends. Prosecutors say Menendez accepted nearly $1 million in campaign donations and luxury travel, including a Paris vacation, from Melgen.
About 200 residents filled out written questionnaires on Wednesday and a second pool of potential jurors will report Thursday to the federal courthouse in Newark to fill out the same forms. U.S. District Judge William Walls will review all the responses before giving them to lawyers in the case. Lawyers will then begin interviewing potential jurors on Aug. 22 to weed out those with biases. The trial will begin on Sept. 6.
Walls, 84, told the group that the bribery trial will last between six and eight weeks, and lawyers will pick a panel of 16 jurors and alternates "who as much as humanly possible are impartial."
Both Menendez and Melgen have pleaded not guilty and deny wrongdoing. 
On April 28, Melgen was convicted in a separate case of defrauding Medicare of tens of millions of dollars. Prosecutors said the eye doctor misdiagnosed elderly patients and then conducted unnecessary invasive tests and provided expensive treatments.
The case is U.S. v. Menendez, 15-cr-00155, U.S. District Court, District of New Jersey (Newark).
Before it's here, it's on the Bloomberg Terminal.
LEARN MORE