politics
Macron Names Women to Justice and Defense Posts in Cabinet Shakeup
By and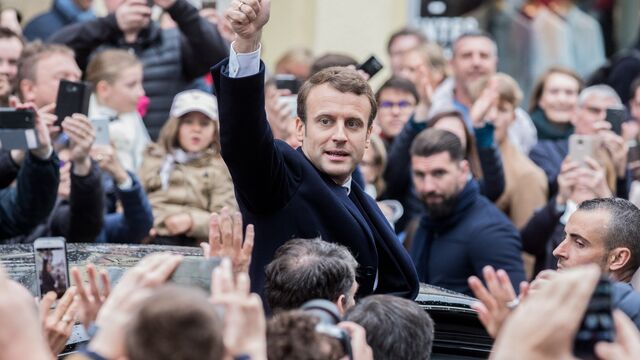 French President Emmanuel Macron named women to major cabinet posts in a shake-up of ministerial portfolios after other members resigned because of a preliminary probe into financing of jobs at the centrist MoDem party.

Nicole Belloubet, a member of France's Constitutional Council, was named justice minister, replacing Francois Bayrou. Florence Parly, a former Socialist budget secretary, was named defense minister, replacing Sylvie Goulard.
The cabinet shuffle helps Macron cement his leadership after his Republic On the Move party won 308 seats in parliament in Sunday's election while allied MoDem, which is led by Bayrou, took 42, meaning Macron doesn't need Bayrou's group for a majority in the 577-seat National Assembly. Macron could pick up even more support because some dissident centrist members of the Socialist Party and the center-right Republicans have indicated they could vote in favor of his government.
Bayrou ran three times for president himself, almost making the second round in 2007, and his February endorsement was a major boost for Macron's campaign. But he overplayed his hand after Macron took power, demanding a bigger say for his party, and the probe into whether MoDem diverted payments from the European Parliament to fund its domestic activities made him a liability.
"Francois Bayrou is and remains what he is, completely his own man," Prime Minister Edouard Philippe said on TF1 television. "Some times he can irritate, often he seduces. When he speaks, one needs to listen."
French politicians are facing unprecedented scrutiny after scandal brought down Republican candidate Francois Fillon when he looked set to win the presidency this year. Reports that Fillon had given his wife and children fake jobs as parliamentary assistants over the course of decades, funneling about $1 million into family coffers, caused his poll ratings to plummet and helped propel Macron to victory.
As part of his campaign promises, Macron has proposed new laws limiting the scope for lawmakers to hire family members or take on outside work. As justice minister it would have been Bayrou's responsibility to oversee those new rules.
— With assistance by Gregory Viscusi
Before it's here, it's on the Bloomberg Terminal.
LEARN MORE