politics
Macron Cements Grip on Cabinet as Troublesome Minister Quits
By and
MoDem party members being probed over EU parliament allowances

Macron's party has parliamentary majority on its own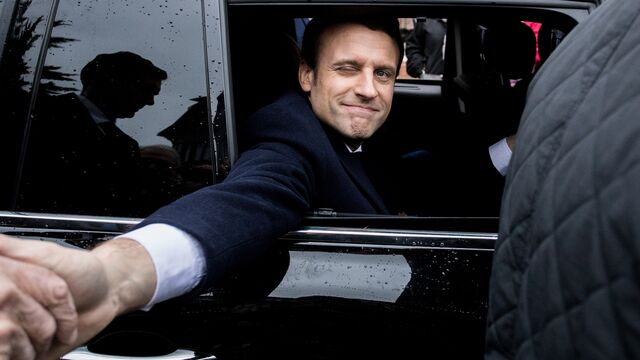 A one-time rival to President Emmanuel Macron was forced out of the French government on Wednesday as the president asserted his authority after a resounding victory in Sunday's parliamentary elections.
Justice Minister Francois Bayrou, 66, who threw his weight behind Macron's campaign in February after mulling his own bid for the presidency, quit Wednesday morning. European Affairs Minister Marielle de Sarnez is also leaving, Agence France-Presse reported, citing officials within her party, while two other ministers resigned on Tuesday.

Bayrou leads a centrist party MoDem that is allied with Macron's lawmakers in the French Assembly. He was left little option after Defense Minister Sylvie Goulard, another MoDem member and a close Macron ally, resigned Tuesday morning, saying a preliminary probe into funding of their party had made her position untenable. Sarnez is also a member of MoDem. Bayrou told AFP he'll hold a press conference at 5 p.m. Paris time.
French government spokesman Christophe Castaner said Bayrou's departure was a "personal decision," and followed a long telephone conversation with Prime Minister Edouard Philippe.
"What is clear is that this simplifies the situation because it was difficult," Castaner said on Europe1 radio. "It's now easier to concentrate."
The departing MoDem trio follow Regional Development Minister Richard Ferrand, who quit Monday amid a separate preliminary investigation over real estate deals by an insurer that he ran. Ferrand, a former Socialist who helped Macron set up his political party, is instead lined up to lead Macron's party, Republic on the Move or LREM, in the National Assembly.

LREM won 308 seats in parliament in Sunday's vote while MoDem took 42, meaning Macron doesn't need Bayrou's group for a majority in the 577-seat body. Macron could pick up even more support because some dissident centrist members of the Socialist Party and the center-right Republicans have indicated they could vote in favor of his government.
"Macron no longer needs Francois Bayrou," said Thomas Guenole, a professor at the Sciences Po Institute in Paris.
Bayrou ran twice for president himself, almost making the second round in 2007, and his February endorsement was a major boost for Macron's campaign. But he overplayed his hand after Macron took power, demanding a bigger say for his party, and the probe into whether MoDem diverted payments from the European Parliament to fund its domestic activities made him a liability.
"It's absolutely not Emmanuel Macron who has question marks hanging over him," said Guenole.
The Fillon Affair
As is the custom in France, the entire government resigned after the parliamentary elections, and Philippe will announce a new cabinet Wednesday. Castaner said MoDem still has a place in the government, and that party members will be considered for the open posts.
French politicians are facing unprecedented scrutiny after scandal brought down Republican candidate Francois Fillon when he looked set to win the presidency this year. Reports that Fillon had given his wife and children fake jobs as parliamentary assistants over the course of decades, funneling about $1 million into family coffers, caused his poll ratings to plummet and helped propel Macron to victory.
As part of his campaign promises, Macron has proposed new laws limiting the scope for lawmakers to hire family members or take on outside work. As justice minister it would have been Bayrou's responsibility to oversee those new rules.
(
Updates with analyst's comment in eighth paragraph.
)
Before it's here, it's on the Bloomberg Terminal.
LEARN MORE