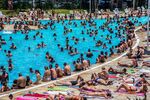 Come on in, corporate bond issuers -- the water's lovely.
Following French President Emmanuel Macron's election victory, European investors are queuing up for new securities -- even as spreads continue to ratchet tighter. It makes sense for any would-be borrower to take advantage of their relaxed attitude toward risk to raise funds at extremely cheap rates.
Buyers are clamoring for anything with a bit of yield. Whatever view you have on current world problems, it is tough to argue that bonds are undervalued.
And for once, a period of calm beckons for the continent's fixed-income markets. Thorny negotiations on debt relief for Greece, potential shared eurobonds and closer EU political and fiscal union are all issues important for borrowers and lenders alike -- and all are solidly off the table for the coming months. Officials won't be minded to make big decisions about Europe's future until after the German elections in mid-September. 
The larger European sovereigns, including Italy, have already paved the way with jumbo syndicated deals that have all gone well since Macron's victory. This allows riskier countries to have the confidence to raise money.

So, Cyprus managed a 7-year benchmark issue with a paltry 2.8 percent yield. That pales in comparison to Argentina's new 100-year bond issue on Monday. The nation whose default still rings in investors' minds achieved an incredibly low 7.9 percent yield. Even Russia attracted demand for about double the $3 billion of 10 and 30 year eurobonds it priced yesterday. Political risk is no longer tempering the allure of higher yield.

With many big national issuers having done their part (though Spain should be on its way soon), the next natural step is for companies, including the lower-rated and infrequent issuers, to raise funds.

They're coming thick and fast. Of the 75 new deals launched in June so far, about two-thirds are now priced tighter than launch. There is little sign yet of investor fatigue -- spreads on several deals this week have raced in from their opening price range. One example is Clydesdale Bank -- its 8 year bond tightened nearly 50 basis points from earlier guidance of 285 basis points over the government benchmark.
But the clearest example is British Telecom Plc. Its latest deal is substantially cheaper than what it achieved in March last year. The structure of its three-part offering is the same, but the premium for an extra year of risk is vanishingly small. 

This happy spell for new debt sales may last yet a few weeks more, as the region's central bankers are doing their best to encourage the view that rates will be lower for longer, allowing the search for yield to continue.
Bank of England Governor Mark Carney said yesterday that now is not the right time for U.K. rate hikes. And, the next European Central Bank decision on tapering QE probably won't come until at least September.
With political risk dialed down until the fall, the biggest barrier now that would-be issuers now face is that investors balk at such incredibly low spreads. Companies should take care not to push them too tight, ruining their own feast.
Before it's here, it's on the Bloomberg Terminal.
LEARN MORE