markets
A Big Risk in Bond Markets Is Making a Comeback
By and
Pimco says long-dated debt "attractive" amid weak inflation

Strategists bullish on low duration, defying Fed guidance
Reports of the death of long-duration debt have been greatly exaggerated.
A slowdown in U.S. reflation, a bear market in oil prices and the onset of the summer lull are set to reinforce the allure of global bonds with long maturities, according to investors and analysts at Pimco, Citigroup Inc. and UBS Group AG.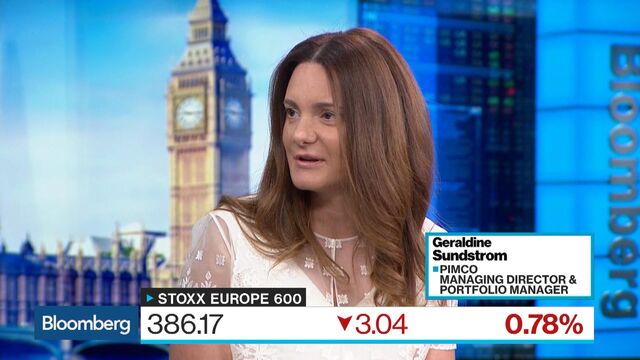 "Duration looks attractive even at this level," Geraldine Sundstrom, portfolio manager at Pimco Europe, said in an interview on Bloomberg TV.
In a reversal of Wall Street's high-conviction call late last year that duration trades were set to unravel, disappointing U.S. inflation data and the Trump administration's roadblocks in passing legislation have spurred a bond rally this month, in defiance of the Federal Reserve's hawkish posture.
"Is the Fed really going to continue hiking as they say and disregard the fact that inflation is not there and also there are some signs that the economy is plateauing or even slowing down somewhat?" Sundstrom added.

Duration is a measure of the sensitivity of a bond's price to a change in interest rates, and securities with longer duration typically gain more when rates drop. Conversely, they suffer stiffer losses when they climb, as the market routs in 2013 and 2015 showed. Argentina, which has spent 75 years of its two-century history in default, sold $2.75 billion of 100-year bonds Monday, laying bare the depth of appetite for global long-dated debt. (It sold the notes at a steep discount, meaning its modified duration is less than the 2117 due date implies.)
Bond markets are calling the Fed's bluff by doubling down on bets on low inflation and growth, with interest rates at the long-end of the yield curve fully reversing post-election increases. The $7.32 billion iShares 20+ Year Treasury Bond exchange-traded fund has returned a whopping 8 percent so far this year, while taking in $1.6 billion of inflows. Investors, meanwhile, are no longer receiving extra compensation to own 10-year U.S. Treasuries instead of shorter-maturity obligations, a spread known as the term premium.

A structurally low oil price, thanks to shale production and a global supply glut, will help to cap long-dated yields because of the diminished risk that inflation will overshoot the Fed's target, according to UBS. That should boost the allure of buying bonds as a hedge against the risk of holding stocks at record-high prices, while shorter-duration assets could struggle to rally further as the market has already priced-in a pause in the Fed's tightening program, according to the Swiss bank.
As such, credit risk, not duration, is the bigger threat to bond markets right now, UBS strategists led by Stephen Caprio said in a client note. "Short-duration high-yield is more vulnerable than long-duration investment grade."
Citi strategists reckon 30-year Treasury yields will stay comfortably below 3 percent this year, after peaking at 3.2 percent in March, and are bullish on trades that short inflation-linked bonds. Their call is strategic: the fact Treasuries have rallied in the one-month prior to the last three rate hikes while U.S. inflation data have flopped sets the stage for lower rates for longer.
The long bond yielded 2.72 percent Thursday, 14 basis points less than at the start of the month.
Meanwhile, strategists at JPMorgan Chase & Co. reversed a call to pare the duration exposure of developed-market government bonds. UniCredit SpA is tactically bullish on 30-year German government debt, with its strategists expecting outperformance over the summer lull as traders double down on basic strategies, such as roll-down and carry, that increase appetite for duration risk. "The tame inflation environment, reinforced by the ongoing softness in oil prices, creates the case for a tactical duration extension, particularly ahead of the summer period," analysts wrote in a note.

The counterpoint to the duration bulls comes from Nick Gartside, co-manager of JPMorgan Asset Management's $4.1 billion Global Bond Opportunities fund, who's sticking to short-duration exposure. "It's true the Trump reflation trade has excited to disappoint, but from our perspective that disappointment looks a little overdone now," he said in an interview.
The fund has outperformed 87 percent of peers over the past year after cutting the average duration in U.S. securities to three years from more than five in July 2016. "Economic data looks pretty good from our perspective, and it's likely that some form of fiscal stimulus gets through -- tax cuts or indeed just deregulation could easily happen," Gartside said.
Peter Chatwell, rates strategist at Mizuho International, also reckons investors should tread carefully. "Once economic surprises have begun to pick up, sentiment towards U.S. duration should soften, allowing long term yields to push higher once again," he wrote in a client note.
"We will see curve-steepening again," said Rick Lacaille, chief investment officer at State Street Global Advisors on Bloomberg TV, referring to the prospect of tax reform next year. "That's what's driven the yield curve: The expectation that not much is going to change. That's an incorrect interpretation."
Almost halfway through 2017, enduring duration bets represent another break from Wall Street consensus forged as the new year dawned.
— With assistance by Francine Lacqua
(
Adds comment from State Street Global Advisors in penultimate paragraph.
)
Before it's here, it's on the Bloomberg Terminal.
LEARN MORE