Finance
Chinese Authorities Put the Squeeze on Anbang
It bought the Waldorf and danced with a Kushner company. Now China's high-profile insurer could face a cash crunch.
Bloomberg News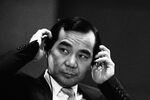 Outside China, Anbang Insurance Group Co. has been best known for its high-profile deals. It acquired New York's iconic Waldorf Astoria hotel, made an aborted bid for Starwood Hotels & Resorts Worldwide Inc., and in March pulled out of talks for a real estate deal with a company owned by the family of Jared Kushner. Now it's also notable for the recent detention for questioning by the Chinese government of its chairman, Wu Xiaohui. Anbang has said Wu can't perform his duties for personal reasons.
In its home country, Anbang has been a place to stash savings. Many of its popular insurance products were more like high-yielding investments. Think something like a U.S. certificate of deposit but riskier, with returns paid after a specific period such as one or two years. These weren't bank accounts, but 99 percent of premium income in the company's Anbang Life unit last year came from sales in banks. The products helped fuel Anbang's investing.
Before authorities brought in Wu, China began a clampdown in the insurance industry that's hit Anbang hard. In May regulators temporarily banned its life insurance unit from applying for permission to sell new products. Authorities have asked lenders to suspend some business dealings with Anbang, and at least seven large banks have stopped selling Anbang policies in their branches, according to people with knowledge of the matter. "If Anbang can't sell over bank counters, other channels can hardly contribute revenue in a meaningful way in the next few months," says Steven Lam, a Bloomberg Intelligence analyst.
The company could face a cash crunch if too many clients start asking for their money back. Anbang sold 47.6 billion yuan ($7 billion) of a policy called Longevity Sure Win No. 1 in 2015. Those customers can leave this year and get back what they put in plus a 4.7 percent annual yield, though that can rise to 5.8 percent if they stay three more years. An Anbang representative says it's building new sales channels, such as a mobile app, and is selling more long-term, traditional insurance products. It said in April its life unit had cash reserves of 207.8 billion yuan.
In a June 20 note, political risk consultants at Eurasia Group wrote that Chinese authorities would likely act to prevent losses to retail investors or a fire sale of Anbang's long-term assets, but a disorderly implosion remained a risk. 
"The political costs of a sudden collapse would be high, and officials have a mandate to maintain financial stability," analyst Christopher Beddor wrote. "But Anbang's business model is clearly finished."
BOTTOM LINE -
Anbang has sold insurance products in China that look a lot like investments. For a while, that money helped to power the company's growth.
Before it's here, it's on the Bloomberg Terminal.
LEARN MORE