business
CBS Said to Score Big Increases in Ad Market for Next Season
By
Stephen Colbert topped all late-night hosts last season

CBS morning show had best ratings in at least 29 years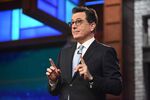 The resurgence of Stephen Colbert and the growth of "CBS This Morning" buoyed CBS Corp. in advertising sales for the upcoming season, according to a person familiar with the matter, with rate gains in the high single digits.
CBS also scored single-digit increases in sales volume, though prime time was little changed compared with last season, said the person, who asked not to be identified discussing private talks. Like most TV networks, CBS sells the majority of its advertising in the upfront marketplace, and CBS Corp. generates 48 percent of its overall sales from advertising.
Analysts expected this to be a down year for TV networks in the ad market because of steep declines in live viewership, with CBS, the most-watched network, falling 12 percent in prime time. The volume of sales was supposed to be down, with prices growing more slowly than they did a year ago. CBS's strong sales could portend well for the industry, though it's possible the network stole market share from rivals.
CBS shares jumped as much as 3.6 percent to $62.82, while stocks of other companies that own broadcast networks, such as Walt Disney Co. and 21st Century Fox Inc., also rose.
CBS sold the majority of its advertisements on a C7 basis, meaning it gets paid for shows viewed on demand up to seven days after the initial episode aired. The network also made a few deals for viewership up to 35 days after the initial airing, the first time the network has done that.
TV networks have tried to protect their advertising sales by claiming that viewership of their shows is as high as it's ever been. People are just watching programs days, weeks and months after the initial airing. Getting paid for those views has been a challenge since TV's whole appeal is that it captures millions of viewers simultaneously.
While live viewership has dropped, CBS still attracts almost 10 million viewers in prime time, and has fared especially well in other parts of the day. After a rocky start replacing David Letterman, Colbert surged past Jimmy Fallon into first place last season among all late-night hosts. "Late Show" drew more than 3 million viewers a night, up 12 percent from a year ago, and claimed first place for CBS for the first time since the 1994-1995 TV season.
"CBS This Morning," meanwhile, finished the 2016-17 season with its strongest ratings in at least 29 years, the company said. The show, still third behind competitors on ABC and NBC, averaged 3.68 million viewers last season.
CBS this week renewed its entire daytime lineup, including soap opera "The Young and the Restless" and game show "The Price is Right."
Advertising volume increased by double digits in the daytime and other periods outside of prime time, thanks in large part to higher spending from Proctor & Gamble Co. and pharmaceutical companies. Those big spenders put pressure on other ad buyers, who had to decide whether to buy spots ahead of time or take their chances on inventory available during the season in what's known as the scatter market.
"Proctor & Gamble is plowing more money into TV, which is causing other advertisers to say this will squeeze the scatter marketplace if they don't get into the upfront," Brian Wieser, an analyst with Pivotal Research, said in an interview. The increases for CBS could damage cable networks, Wieser said.
(
Updates with analyst comment in final paragraph.
)
Before it's here, it's on the Bloomberg Terminal.
LEARN MORE