markets
BOE Chief Economist Admits Smooth Brexit Call Is Big Assumption
By
May economic forecasts were based on orderly divorce from EU

Despite noting risks, Haldance hints at vote to raise rates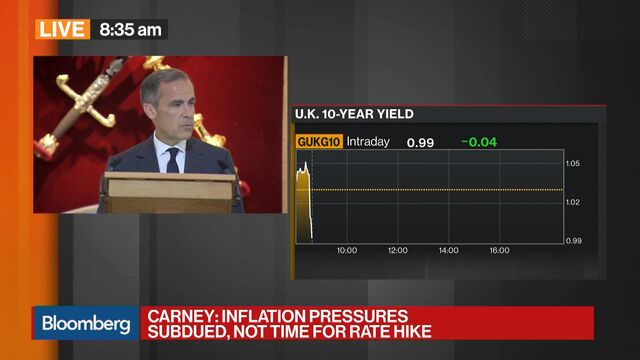 The Bank of England's chief economist just admitted what everyone else in Europe already suspects - Brexit might not be so easy after all.
Andy Haldane conceded that the base expectation in its latest forecasts -- that the U.K. will avoid the so-called cliff edge in which it leaves the European Union without a trade deal or transitional period, on which the central bank formed its May forecasts -- may not be the case.

"Underlying these Brexit effects is an assumption that the process is a smooth and orderly one. This is a strong assumption," Haldane said in the speech delivered in Bradford, U.K. on Tuesday. "There could be a "Brexit break" in the economy."
In a speech published by the BOE Wednesday, he said that a more disruptive divorce could "could prompt a discontinuous response by consumers and companies" such as building precautionary savings, that could have a significant and adverse affect on growth.
Based on the assumption that Brexit talks don't go awry, the BOE in May raised its 2018 and 2019 growth expectations higher and officials said expansion will remain around trend over the period.
Haldane said the discontinuity risk is "difficult to dismiss," pointing to signs of slowdown in big-ticket items such as cars and household goods which could, if persistent, justify leaving interest rates at a record low.
These comments chime with those of Governor Mark Carney, who on Wednesday pushed back against rate hawks on the Monetary Policy Committee and re-emphasized his concerns about the impact of Brexit. Nevertheless, Haldane said he is no longer fully swayed and may vote to tighten policy by the end of the year.
"Provided the data are still on track, I do think that beginning the process of withdrawing some of the incremental stimulus provided last August would be prudent," he said. "Starting the process of withdrawing some monetary policy insurance should serve as a signal of the MPC's confidence in the U.K. economy's resilience."
Before it's here, it's on the Bloomberg Terminal.
LEARN MORE