Zhou's Chess Tips Ease Markets While Keeping PBOC Strategy Dark
Bloomberg News
PBOC is increasing commentary on daily open-market operations

Policy makers can do better with communications, Minsheng says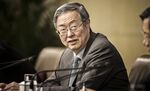 People's Bank of China's Governor Zhou Xiaochuan, who has likened monetary-policy communication to chess, is telling markets more about his moves as he makes them. 
That doesn't mean he's ready to give the game away. 
The PBOC's regular cash injections are now coming complete with comments about their intent, helping to soothe markets just before the cash crunch that usually accompanies June regulatory inspections. The central bank has also recently put markets on notice with articles in its in-house newspaper, and offered guidance with open-market operation statements.
Taken together, these moves are showing signs of success by lowering borrowing costs: The three-month Shanghai Interbank Offered Rate eased for a fifth consecutive day Wednesday.
But economic policy has always been challenging to decipher in China, where Communist Party leaders manage one of the world's most opaque central banks. Giving better guidance brings the PBOC closer to global peers and lets it steer the economy more smoothly. And it can ease the transition as Zhou continues giving markets a greater role in setting prices.
"The central bank has stepped up communication with markets to avoid unusual fluctuations and stabilize expectations," said Wang Yifeng, an analyst at China Minsheng Banking Corp.'s research department in Beijing. "Promoting transparency and guidance is global consensus."

With the economy showing signs of having peaked for this year in the first quarter, enhanced communication may be just one of the responses officials need in coming months as they try to rein in excessive leverage without derailing the expansion.
Read More: China Must Be 'More Adept' at Policy Communication, Lew Says
Zhou has also unnerved investors before, namely with his silence after the shock yuan devaluation in 2015, and soothed them, such as his return to the public stage after the ensuing rout. He told business publication Caixin last year that "good communication is never an easy thing," adding that the PBOC has a strong willingness to better inform the public and the market.
Yet the central bank views speculators as opponents in a game, and it's "unimaginable" for the PBOC to reveal its strategies to them, he said. "This is like a player who will never reveal his next moves to the opponent in a game of chess."
Read More: Zhou's Jibe at 'Lazy' Banks Signals China More Open for Business
The PBOC didn't reply to a faxed request seeking comment on its communication strategy.
Recent communication policy changes include:
The PBOC's Financial News said in May it was considering resuming 28-day reverse repurchase agreements and mid-term lending operations
The central bank later conducted those operations
The Financial News said on June 10 that a cash crunch isn't likely and the "abnormal market swings" of June 2013 won't happen again
In June it started giving brief explanations of daily open-market injections, something it usually had done when it halted operations or injected mid-term funds
These instances of guidance are coming much earlier than those in mid-2013, when the PBOC offered assurances about funding levels only after unprecedented funding tensions.
Evolution Clue
Comments accompanying daily open-market operations are "signs of higher transparency" of monetary policy, which started this year, Ming Ming, a former central bank monetary policy official who's now head of fixed-income research at Citic Securities Co. in Beijing, said in a note Tuesday. "It's a clue for us to study the evolution of monetary policy."
The changes are part of a slow, steady trend over the past year and a half for the PBOC to communicate more when there's heightened uncertainty, according to Andrew Polk, co-founder of research firm Trivium China in Beijing. While the quantity of communications has improved, the quality still leaves something to be desired, he added. 
"The PBOC is moving in the right direction," Polk said. "Better communication has definitely gone a long way to calm market nervousness."
The PBOC doesn't schedule policy decisions, publish votes or minutes, or hold regular press briefings. Major policy changes including moves on interest rates and reserve-requirement ratios have been announced in the evening or at weekends.
Unlike other monetary authorities with varying degrees of autonomy from the government, the PBOC must follow orders from the State Council, China's cabinet. That can leave central bank watchers turning to official state media for clues about what top leaders are thinking.
The People's Daily, the main Communist Party publication, last year published comments by an unnamed "authoritative person" warning of bad loans and soaring debt, presaging the official government announcement in December that it would prioritize deleveraging in 2017.
Market Expectations
It wasn't very long ago that central banks started trying to manage market expectations, but the strategy played a big role in steering U.S. monetary policy through the post-crisis period, Qin Han, an analyst at Guotai Junan Securities Co. in Shanghai wrote in a recent note.
More talkative central banks can sometimes baffle observers. The Federal Reserve's quarterly summary of economic projections, better known as the dot plot, can sometimes be challenging for Chair Janet Yellen to explain. The ECB is still keeping investors guessing about its exit strategy.
The PBOC has also whipsawed investors this year with its changing stance on yuan fixings.
"In general, the markets are still in a guess about PBOC's attitude and stance," Qin said, "the PBOC hasn't started giving clear forward guidance on yuan fixing and open-market operation policies."
Fed Deluge of Dots and Discord Leaves Global Markets Baffled
"It's probably right the PBOC only slowly decides how it will communicate with the market," Polk said. "Once you start to communicate more, you set an expectation, the markets start to look for those signals, and if they're not there, often it seems to get worse."
— With assistance by Yinan Zhao, Xize Kang, Zheng Wu, and Xiaoqing Pi
Quotes from this Article
Before it's here, it's on the Bloomberg Terminal.
LEARN MORE