U.K. Conservatives Say Talks on Support Deal Continuing With DUP
By
Accord was originally expected a week ago and has been delayed

May going ahead with Queen's Speech on Wednesday anyway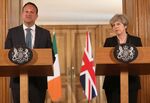 U.K. Prime Minister Theresa May's Conservative Party said Tuesday evening it's continuing talks with Northern Ireland's Democratic Unionist Party on a deal that will allow her to win key votes in Parliament.
The talks, which were originally supposed to finish last week, were reported in U.K. media Tuesday to be variously close to succeeding and further delayed. The DUP is seeking to extract as many concessions as possible from the Tories in exchange for support in a so-called "confidence and supply" agreement.
This would be well short of a formal coalition. Instead, it would be a promise to support May on finance bills and in motions of no confidence -- the only votes that could bring her government down.
In the absence of a deal, May is going ahead with Wednesday's Queen's Speech in Parliament, setting out her legislative program. Voting on that isn't due to start until June 28.
Before it's here, it's on the Bloomberg Terminal.
LEARN MORE