Two Macron Ministers Quit, Turning Heat on French Justice Chief
By and
Defense minister resigns over EU probe into party funding

Her ally at justice ministry annoyed Prime Minister Philippe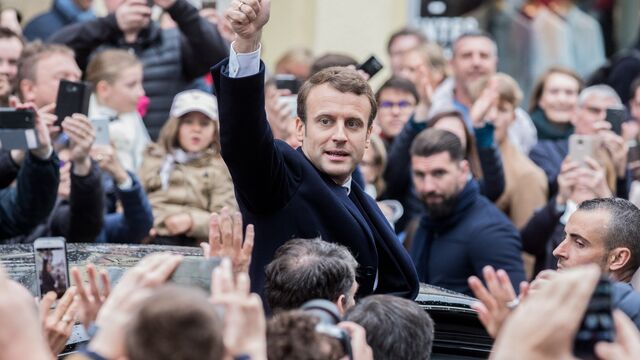 Two of Emmanuel Macron's ministers, both early backers of his bid for the presidency, resigned from his cabinet, underlining the challenge of maintaining a government without a hint of scandal and increasing pressure on Justice Minister Francois Bayrou.
Richard Ferrand, who helped Macron set up his political party, said Monday he would give up his role as regional development minister. Defense Minister Sylvie Goulard handed in her resignation Tuesday morning, saying in a statement she didn't feel she could remain part of the government while investigators are looking into whether she and other European deputies from the centrist MoDem party misused allowances to pay for party activities.

At stake is both the public perception of the new administration and the fate of Macron's one-time rival Bayrou, the leader of MoDem, who provided a key endorsement for Macron during the presidential campaign but has also drawn controversy for his old-style partisan behavior and treatment of the press. Macron's party Sunday won 308 seats in the National Assembly and MoDem took 42, meaning Macron doesn't need Bayrou's group for a majority in the 577-seat body.
"If Sylvie Goulard is leaving it's because of the questions related to MoDem in the European Parliament, so it raises the question of the possible departure of all ministers from that party," said Thomas Guenole, a professor at the Sciences Po Institute in Paris. "This comes at a time when MoDem itself is weakened. Francois Bayrou's endorsement of Macron was critical during the campaign, but he is no longer vital."
The intense scrutiny of ethical issues in French public life is unprecedented after scandal brought down Republican candidate Francois Fillon when he looked set to win the presidency. Reports that Fillon had given his wife and children fake jobs as parliamentary assistants over the course of decades, funneling about $1 million into family coffers, caused his poll ratings to plummet and helped propel Macron to victory.
Ferrand Probe

Ferrand has been under pressure since prosecutors opened a preliminary probe into whether the former Socialist's partner benefited from a real estate transaction with a mutual insurer that he ran in 2011, before becoming a member of parliament. Ferrand has denied any wrongdoing and has been asked by Macron to lead his party in the Assembly.
Throughout his campaign, the 39-year-old president promised he'd "renew" French politics by enacting a series of laws to ensure ethical conduct in public life. He said any minister facing criminal charges would have to resign. Goulard said she doesn't want to find herself in that position.
"In the event that the preliminary probe on MoDem leads to a verification of the employment conditions of my assistants at the European Parliament, I want to be free to demonstrate my good faith," she said in a statement. "That is why I have asked the president of the republic and the prime minister to let me play no further part in the government."
Bayrou Deflects
Le Monde reported on its website that Bayrou said Goulard's decision was "strictly personal" and didn't put Modem's participation in the government in doubt. Bayrou last week was reprimanded by Prime Minister Edouard Philippe for having called reporters at a radio station asking them to not report on the probe into MoDem's EU parliament assistants.
As justice minister, Bayrou is responsible for promoting a new law providing a strict framework for ministers and parliamentarians.
"For now public opinion is vigilant but not naive, they don't expect everything to change in a snap," said Adelaide Zulfikarpasic, a director of BVA Opinion in Paris. "On the other hand, if it's still the case two years from now, that will be a problem."
Philippe said Tuesday that he will announce the new cabinet members before 6 p.m. Wednesday. As is the custom in France, the entire cabinet resigned after the parliamentary election, though most ministers are expected to remain in place.
Before it's here, it's on the Bloomberg Terminal.
LEARN MORE