South Korea Bets on Hyperloop With Licensing Deal
By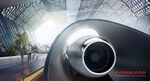 Hyperloop Transportation Technologies has struck its first commercial deal: licensing its technology to a Korean consortium whose plans include building a near-supersonic train connecting Seoul to a city about 200 miles (325 km) away. 
Hyperloop is a technology that would use magnetic levitation in low-pressure tubes to transport people and goods at airplane-like speeds. HTT, founded in Los Angeles in 2013, raised $30 million from Edgewater Partners last year. Its higher-profile rival, Hyperloop One, also based in Los Angeles, has raised $141 million in equity. Both are based on an idea first promoted in 2013 by entrepreneur Elon Musk, who isn't involved in either company.
The amount of income that HTT will make from the project connecting the port city of Busan depends on how much of its technology gets integrated into the transportation system, said Dirk Ahlborn, HTT's chief executive officer. It could be as little as zero if none of the supersonic train systems are built by the consortium, which includes a Korean government engineering institute and a university. If several HTT technologies are used, such as its vacuum, track and capsule technologies, the deal could become lucrative, he said. 
HTT signed the agreement, which could include work on a Seoul-Busan line, with the Korea Institute of Civil Engineering and Building Technology and Hanyang University. The deal encompasses research, testing, licensing and development.
The Korea Railroad Research Institute said in January that it was working with Hanyang University and other groups to build a rapid train system that could reduce travel between Seoul and Busan to as little as half an hour.
Before it's here, it's on the Bloomberg Terminal.
LEARN MORE