Saudi Arabia Seen Luring Billions With MSCI Upgrade in Sight
By and
Inclusion in MSCI's emerging-market indexes possible by 2018

HSBC estimates potential inflows to market of $9 billion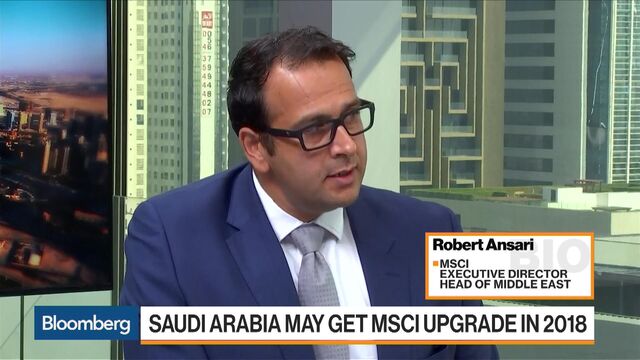 Saudi Arabia passed a major barrier to being classified by MSCI Inc. next year as an emerging market, an achievement that may draw billions of dollars to its traded companies through eventual inclusion in some of the biggest global stock indexes. Saudi officials expect the actual addition to be faster than usual.
The kingdom, already boasting the Middle East's largest equities market, was added to MSCI's watch list for a potential upgrade in 2018, the index provider said Tuesday. More than $1.5 trillion in assets are benchmarked by money managers to the MSCI Emerging Markets index family. The country's main stock benchmark gained 5.5 percent the day after the announcement, the most since August 2015.

The possible promotion follows a years-long campaign by the country's capital markets regulator and stock exchange to carry out investor-friendly rule changes. They included facilitating access to foreigners and implementing T+2 settlement in order to attract funds from abroad. The moves coincide with the kingdom's effort to diversify the economy away from oil, its main export.
"Following the introduction of these major enhancements to the accessibility of the Saudi Arabian equity market, MSCI will be consulting with international institutional investors to gather informed feedback on their practical experience of accessing the Saudi equity markets and in particular on the effectiveness of the recently implemented enhancements," the index provider said in a statement Tuesday.
Should Saudi Arabia win classification by MSCI next year, its shares could see inflows of the order of $9 billion, according to calculations by HSBC Holdings Plc.
The addition would place Saudi Arabia "in good stead to achieve its Vision 2030" transformation plan, Georges Elhedery, chief executive officer for the Middle East and North Africa at HSBC in Dubai, said by email. "Passive inflows into Saudi equities could draw approximately $9 billion. This has the potential to rise even further if active funds increase their allocations."

While many countries remain for two to three years on the watch list prior to index inclusion, Saudi Arabia expects the process to happen faster, according to Mohamed El-Kuaiz, vice-chairman of the Capital Markets Authority.
"Given the pace and the magnitude of capital-markets reforms that have been made in Saudi Arabia and the commitment that has indicated, the duration that we will be on the watch list will hopefully be shorter," he said in a television interview with Bloomberg Markets Middle East on Wednesday.
The Saudi Capital Markets Authority and the exchange are "taking the right steps to attract investors, including adding new regulations, upgrading infrastructure, introducing new products and actively educating investors globally," said Tamim Jabr, chief executive officer of Deutsche Bank's Saudi Arabian securities unit, who considers the kingdom's inclusion by MSCI as "one of the most important events in emerging markets for 2017/2018."
READ: Saudi King Names His Son as Heir to Throne in Palace Shakeup
The upgrade may attract investor interest to markets across the Middle East and North Africa ahead of the planned share sale of Saudi Aramco, the world's biggest oil-exporting company, according to Mohamad Al Hajj, an equities strategist at EFG-Hermes in Dubai.
Greater Access
Inclusion in MSCI's developing-country indexes would "put Saudi Arabia in the top 10 emerging markets, even excluding Aramco," Al Hajj said, adding that passive inflows alone would be equivalent to two-and-a-half to three times current active holdings by foreigners in the Saudi market. "It would finally place the Middle East and North Africa on the map as an important subset of emerging markets and EMEA."
Saudi Arabia allowed money managers outside the Gulf to own local shares directly only two years ago. Since then, authorities have relaxed the guidelines even more. Still, total foreign ownership has stalled at about 5 percent.
As crude oil prices declined this year, the Tadawul gauge has dropped, lagging behind an average of peers as measured by the MSCI Emerging Markets Index, which increased 17 percent through June 19.
The addition to the watch list should result in "substantially improved valuations, liquidity and foreign inflows to the country's market," according to Jaap Meijer and Michael Malkoun, analysts in Dubai at Arqaam Capital Ltd. They estimate Saudi Arabia would have a weighting of 2.2 percent in that emerging markets index, excluding Aramco.
— With assistance by Tracy Alloway
Quotes from this Article
Before it's here, it's on the Bloomberg Terminal.
LEARN MORE