politics
Putin's a Shrinking Giant Abroad and at Home in Poll of Russians
By
Most still back Putin, though support is falling, survey shows

Unhappiness is rising on economy, corruption, Pew reports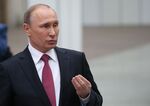 Their confidence in Vladimir Putin's handling of relations with other big powers has declined over the last two years but most Russians still believe that President Vladimir Putin has improved their country's standing in the world, according to a Pew Research Center survey.
While 87 percent have confidence in Putin's handling of world affairs and 59 percent believe Russia is more important internationally than a decade ago, support has fallen "when it comes to his approach to relations with the EU, China and the United States," according to the survey by the Washington-based non-partisan group. Russians are also unhappier than two years ago about Putin's management of the economy and the fight against corruption, Pew found.
"Despite the durability of Putin's overall rating, his performance in handling specific issues has taken a hit since 2015," the study published on Tuesday concluded. "Approval of Putin has dropped by anywhere from 12 to 20 percentage points" on key questions. Support for the president peaked in 2014 on a wave of patriotic feeling after Russia annexed Crimea from Ukraine.
While his approval ratings remain high in opinion polls, Putin now is facing renewed opposition protests as Russia's economy emerges from its longest recession this century and he prepares for a presidential election next March. Anti-Kremlin demonstrations around the country over the last few months have drawn the biggest crowds in five years despite heavy police pressure.
Kremlin officials worry they'll struggle to deliver a commanding victory for another six-year term as the enthusiasm over Crimea fades. Meanwhile, U.S. and European Union sanctions remain over the Ukrainian conflict, while hopes for better U.S. ties under President Donald Trump haven't materialized so far.

The face-to-face survey of 1,002 Russians was conducted Feb. 18 to April 3, and had a margin of error of 4 percentage points. It found that 71 percent considered rising prices a very big problem, while 58 percent "describe corrupt political leaders in the same terms." At least half said they were worried about a lack of job opportunities, the gap between rich and poor, and the threat from terrorism.
Even so, Washington-based Pew found that Russians "are feeling slightly better about their own lives" with 51 percent saying their personal economic situation is good compared with 44 percent in 2015. "However, not many Russians feel optimistic about the future: More than half (53%) expect the national economy to remain the same or worsen in the next year."
Getting Respect
Russians were divided on the merits of Putin's intervention in Syria in support of President Bashar al-Assad, with 46 percent saying military involvement should remain at present levels while 34 percent favored a decreasing role. Just 25 percent said keeping Assad in power should be Russia's main military objective, compared with 64 percent who said defeating extremist groups should be the top priority in Syria.
While the proportion of Russians who believe their country gets the global respect it deserves has doubled since 2012 to 34 percent this year, 56 percent felt it should be held in higher esteem than it is. A quarter-century after the collapse of communism, nostalgia for the superpower past is fading but remains strong -- 59 percent said the Soviet Union's dissolution was a "bad thing," down 10 percentage points from 2015. 
Sixty percent of Russians think "there are parts of other neighboring countries that rightly belong to them," according to the survey, which didn't specify what areas were meant. Support for that view has been roughly steady over the last 15 years, Pew said.
Before it's here, it's on the Bloomberg Terminal.
LEARN MORE