Mnuchin 'Incredibly Unlikely' to Meet Goal on Taxes, Greene Says
By
Manulife economist has doubts about Mnuchin's 3% growth target

Greene says U.S. government shutdown is pretty unlikely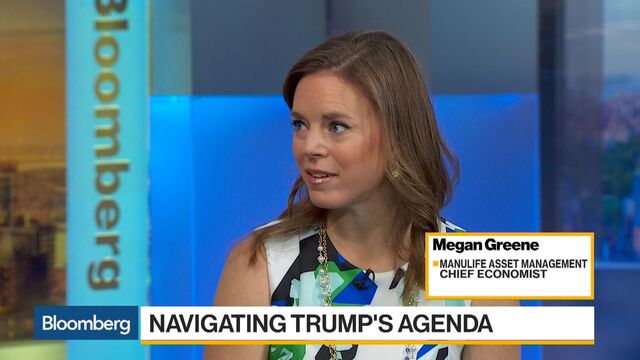 Investors are making a mistake if they count on Treasury Secretary Steven Mnuchin to meet his goal of overhauling the U.S. tax code in 2017, said Megan Greene, the chief economist at Manulife Asset Management in the U.S.
"It's incredibly unlikely that we'll get tax reform by the end of this year," Greene said Tuesday in an interview on Bloomberg Television. "We might get tax cuts, but I would question how much of a difference that would make."
Mnuchin, a former banker at Goldman Sachs Group Inc., said earlier on BTV that tax reform is "critical" to freeing up capital for businesses and helping to stoke expansion. The U.S. gross domestic product grew at a 1.2 percent pace in the first three months of this year. For 2017, economists are projecting 2.2 percent.
"We've had one of the lowest growth rates in modern history, and we're just not going to be satisfied with 2 percent growth," Mnuchin said. The goal is to "create better wages and get growth above 3 percent. We're committed to doing that."
President Donald Trump and his Republican allies in Congress have been unable so far this year to pass major legislation on many of his campaign priorities, including tax reform, a boost in infrastructure spending or an overhaul of health care. Even if lawmakers reduce the corporate tax rate to 15 percent, the result might be muted she said, because many businesses are already paying much less than the current 35 percent levy, thanks to a variety of deductions.
"I'm not sure that would actually boost fundamental potential GDP growth in the U.S.," Greene said of a tax cut. "Certainly not toward Mnuchin's preferred 3 percent growth figure."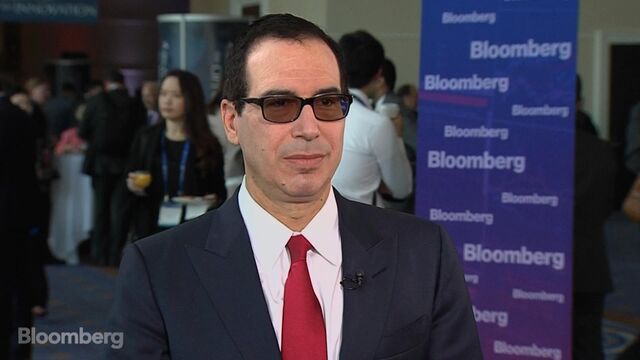 Still, stocks are trading near record levels, and Greene said that many investors aren't counting on Trump's administration to hit all of its targets anyway. The key, she said, is for Congress to raise the debt ceiling, so the government can continue to meet its obligations. Mnuchin on Tuesday urged lawmakers to act before they break for five weeks until Sept. 5, and Greene said investors will be encouraged by that stance.
"What would affect the markets is if we did have a government shutdown," Greene said. "But I think that's pretty unlikely."
Her business is part of Toronto-based insurer Manulife Financial Corp., which offers policies in the U.S. through the John Hancock brand. Manulife Asset Management oversaw more than $350 billion as of March 31, according to its website.
Before it's here, it's on the Bloomberg Terminal.
LEARN MORE