Merkel Tells German Industry to Hold Firm as Brexit Talks Begin
By
Don't let anyone drive wedge between us, chancellor says

Merkel says EU free-movement principles remain fundamental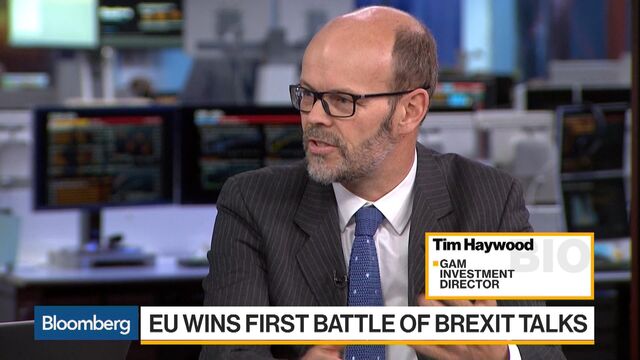 Chancellor Angela Merkel called on German business to back her bottom-line stance on Brexit, saying the European Union must defend its core principles as formal divorce talks with Britain get under way.
A day after Brexit negotiations began in Brussels, Merkel addressed her country's main industry federation on Tuesday with a vista of deepening German-French cooperation, a nod to the possibility of a joint euro-area budget and a plea to business leaders to refrain from putting sectoral interests ahead of a united EU front toward the U.K.

"Let us stay united, don't let anyone drive a wedge between us," Merkel told the audience in Berlin. "We shouldn't jeopardize the four freedoms of the common market. That's what the exit talks will be about."
Merkel's position matters more than most because Germany is the U.K.'s biggest trading partner and her record on keeping German business behind EU sanctions on Russia suggests she can count on industry's support. At the same time, Merkel is turning attention to the broader goals of avoiding clashes over trade with the U.S. at the Group of 20 summit in July and winning a fourth term in Germany's election in September.
Dieter Kempf, head of the BDI Federation of German Industries, signaled support for Merkel.
"The EU's negotiating guidelines have been set right," he said in a speech introducing Merkel. "But let's not fool ourselves: above all, this is damage limitation. We need a long-term stable foundation for our economic relations with the U.K." 
Euro-Area Budget
Merkel said election results in France and the Netherlands this year open "an opportunity for moving Europe forward." That includes possible joint projects with President Emmanuel Macron's France, which Merkel suggested could start with a push to align corporate tax structures in the euro area's two biggest economies.
Expanding on earlier suggestions that the EU should be open in principle to changing the bloc's governing treaties to tie Europe closer together, Merkel left the door open to creating a euro-area budget and a joint finance minister.
"One can certainly think about a euro budget, if it's clear that you really strengthen structures and do things with it that make sense," Merkel said. A euro-area finance minister shouldn't be ruled out either as long as shared shared risks, liability and decision-making "remain at a sensible level."
Before it's here, it's on the Bloomberg Terminal.
LEARN MORE