May Faces New Political Reality With Brexit-Heavy Program
By
Queen's Speech is shorn of pageantry and domestic controversy

Winning vote on it is first test of May's minority government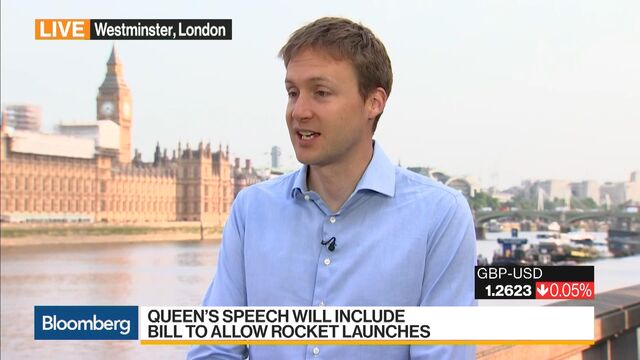 Prime Minister Theresa May will make her first attempt to engage with Britain's new political landscape as she publishes a legislative program heavy on Brexit and likely to be light on anything controversial.
Queen Elizabeth II will read out the plans to lawmakers at 11:30 a.m. in London on Wednesday in an occasion stripped of most of its usual pageantry, marking the start of a two-year parliamentary session. May's office has announced a series of bills aimed at showing that her government is engaging with people's concerns. Aside from allowing space rockets to be launched from British soil, the measures include converting thousands of European Union rules into British law, cutting the cost of whiplash claims to motor insurers and banning letting fees on rented houses and apartments.

Hanging over the whole event is the question of how long May can stay as prime minister, having unexpectedly lost her parliamentary majority in the June 8 election. The first test is simply winning votes next week on the contents of the speech itself. Negotiations are ongoing for the support of Northern Ireland's Democratic Unionist Party, to give May sufficient votes to pass key legislation in the House of Commons. But after that hurdle will come higher ones, as May has to get Brexit bills through a Parliament that to a large extent doesn't support her vision.
"The election result was not the one I hoped for, but this government will respond with humility and resolve to the message the electorate sent," May said in an emailed statement. "First, we need to get Brexit right. That means getting a deal which delivers the result of last year's referendum and does so in a way that commands maximum public support."
Brexit Settlement
What such a settlement looks like is a live question even within May's Conservative Party. Her chancellor of the exchequer, Philip Hammond, argued again Tuesday that it means a focus on supporting the economy, with transitional measures to smooth Britain's departure from the EU. That's at odds with May's pre-election focus on curbing immigration.
More than 50 lawmakers from Jeremy Corbyn's main opposition Labour Party signed a letter Tuesday calling for Britain to stay within the EU's single market. That's a position opposed by many Conservatives, but supported by others within the Tory party, some of whom refused to back May in parliamentary votes on Brexit before the election.
Read more: Is Brexit looking hard, soft or scrambled?: QuickTake Q&A
As well as the legislation to reduce the cost to insurers of whiplash claims, something the Conservatives say could cut motorists' premiums, the less controversial, non-Brexit measures in the government program include tighter rules around claims management companies, and a draft bill to help curb domestic violence. May's office is tagging it "a government at the service of ordinary working people."
Votes Next Week
The Queen's Speech is followed by several days of debate and then votes on June 28 and 29. While the opposition Labour Party will put down amendments, May can probably count on her own lawmakers next week. And though the DUP may try to keep negotiations with the Tories going for as long as possible to squeeze out extra spending pledges, it is also likely to fall in line.
May's deputy, Damian Green, sought to quash rumors that the prime minister is living on borrowed time. "Theresa May is determined to do her duty by this country and will continue to do that as far ahead as I can see," he said in an interview with BBC radio on Wednesday morning. He added that there's still "every possibility" of a deal with the DUP.
"The DUP want the deal, because they want the cash for Northern Ireland, but they will stretch it out; they are used to grandstanding, they are used to late-night talks," said University of Liverpool professor Jonathan Tonge, who co-authored a 2014 book on the Northern Irish party. "The DUP hold 90 percent of the cards -- Theresa May's fear of another election is much greater than the DUP's. Not much would change under Corbyn. It's about the cash. The DUP will milk it for all of its worth. A deal still is more likely than not."
Polls have suggested Labour might replace the Tories as the largest party if a new election were held now.
Wednesday's state opening of Parliament was postponed from June 13 as May sought a deal with the DUP. It will see the monarch arriving by car instead of by horse-drawn carriage, and she won't be wearing her crown as she reads out the speech written for her by the government.
Such pared-down ceremonial has precedents -- November 1939, after the outbreak of World War II, and March 1974, after an early election called amid a state of emergency over widespread labor unrest also produced a hung Parliament.
— With assistance by Dara Doyle, and Charlotte Ryan
Before it's here, it's on the Bloomberg Terminal.
LEARN MORE