Laszlo Birinyi Bets on S&P 500 Hitting 2,500
By and
Investor demand despite market decline is positive for stocks

Bullish view clashes with caution among sell-side strategists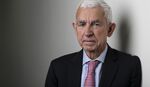 Laszlo Birinyi, a steadfast bull during the eight-year equity rally, just raised his forecast, calling for the S&P 500 Index to rise to 2,500 by September.
The 73-year-old president of Birinyi Associates Inc. said his firm will buy call options to benefit from the upside, according to a note to clients dated Monday. At the start of the year, he predicted the benchmark index would climb to 2,450 by June. The S&P 500 broke that level yesterday, closing at 2,453.46.

The bullish stance is in contrast with Wall Street strategists, who according to a Bloomberg survey see the market as already having peaked this year. While stretched valuations and disappointing economic data have some worrying about whether the tech rout earlier this month is a harbinger of trouble, Birinyi said durable equity demand amid the selloff is a bullish sign.
"We continue positive and were especially encouraged recently as investors were actually net buyers during the recent decline," he wrote.
Birinyi has repeatedly issued forecasts for gains that proved prescient, and he's not veering from that orientation now. His firm will buy $250 calls on SPDR S&P 500 ETF Trust expiring in September for a cost of $2.29, according to the note.
His new forecast represents a level that's about 5 percent above the S&P 500's average price in the past 50 days. That premium has worked as resistance for the market since the start of 2016.

"Currently the top of the indexes' trading range is 2,514, which would only merit lower case headlines and strikes even us as 'wimpy,'" he said. "But we stress discipline, and that number is endorsed by noting that the current spread between the S&P and its 50-day is 2.5 percent while 5 percent is a peak on several recent occasions."
Heeding the advice of the former Salomon Brothers Inc. analyst has been profitable during a bull run that lifted the S&P 500 more than 200 percent. After writing in December 2008 that stocks had reached their financial-crisis lows, he said two years later that U.S. companies were earning too much to be dragged lower by Europe's debt crunch.
Before it's here, it's on the Bloomberg Terminal.
LEARN MORE