French Terror Threat Allows Macron to Keep Extreme Police Powers
By
Most emergency powers to be transferred into regular law

Civil-rights groups say France becoming more like police state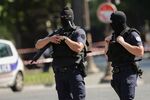 France has lived under emergency law for 20 months now, and human-rights groups are warning that President Emmanuel Macron is using the threat of terrorism as an excuse to make the special powers permanent.
Prime Minister Edouard Philippe has confirmed he wants to give police enhanced powers to order searches and house arrests, arguing the terror threat isn't about to fade any time soon. With the French government due to announce on Thursday which elements of the emergency rules will be written into the regular legal code, rights groups are calling foul.
"The main concern is the total absence of any judge to approve the steps taken," said Nicolas Krameyer, a spokesman for Amnesty International in France. "We would enter into the logic of an administrative police state where simple suspicions would be enough to deprive people of their liberties."
Emergency rule was imposed by then-President Francois Hollande in November 2015 after a series of terror attacks in and around Paris by Islamic State militants left 130 dead. It was due to expire in July 2016 after the European soccer championships in France, but was extended after a truck driver who may also have been inspired by Islamic State plowed into a crowd in Nice on July 14 murdering 86.
France received a reminder of the ongoing threat they face on Monday when a man who was on a terror watch list rammed a car into a police van on the Champs Elysees in central Paris. No police were injured, and the man was killed when his vehicle caught fire. In neighboring Belgium, soldiers shot a suspected assailant after a minor explosion at the central train station in Brussels caused mass panic but didn't injure anyone.
'High Terrorist Risk'
The state of emergency allows the police to impose wiretaps, put people under house arrest, carry out home and computer searches, ban public gatherings, and close places of worship without first seeking approval from a judge. It will also update French law to give authorities more access to airline passenger records, a measure approved by the European parliament in 2016 but still to be transcribed into national law in some member states.
One of the first steps taken by Macron's government after his May election was to extend emergency rule until November, saying the government needed time to update the regular legal code to keep the French safe. Philippe, in an interview Tuesday with BFM TV, confirmed that almost all the main elements of emergency law would become part of the legal code. He said there would be judicial review but was unclear about at what stage a judge's approval would be necessary.
"The French want us to tell them the truth, which is that we are going to live for a long time with a high terrorist risk," Philippe said. "The issue is how we organize to live with this risk, and make it disappear. We can't stay forever under emergency rule, we have to leave, but we have to do it so that in leaving emergency rule certain extremely rare but serious situations can be dealt with using legal instruments."
As well as Amnesty, the Human Rights League and France's judges' union issued warnings about the risk to constitutional rights June 9, following a report in Le Monde that listed some of the government's aims.
"By transferring to common law many elements of emergency rule, by increasing the powers of the police and restrictions on liberties on the base of suspicions, by excluding judicial control, this text is a major danger to our democracy," the judges' union said.
Few Charges
As a candidate, Macron several times said France couldn't remain under a constant state of emergency. "His tactic appears to be to make it permanent as a way to get out of it,"' Krameyer said.
According to the most recent figures released by the Interior Ministry in November, only 20 charges resulted from 4,300 searches carried out under emergency rule while a total of 712 house arrests yielded no charges.
Philippe and other members of Macron's government have given assurances that the new powers would be limited to terrorism suspects. Shortly after emergency rule was declared in 2015, police in western France used it to detain and search people who had participated in protests against the proposed construction of an airport near Nantes.
"With the sole aim of preventing acts of terrorism, this proposed law will allow a real equilibrium between the necessary security of our citizens and the protection of our individual liberties," Interior Minister Gerard Collomb said in an interview in Le Figaro published Wednesday, adding that 690 French people remain with Islamic State in Syria, about a third of them women and children.
"The threat remains very high," he said.
Before it's here, it's on the Bloomberg Terminal.
LEARN MORE