Finnish PM Survives Confidence Vote After His Coalition Shrinks
By
Lawmakers vote 104 to 85 to back governing coalition

Formal end to crisis allows cabinet to focus on reforms again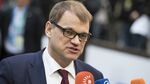 Finland's government survived a confidence vote held on Tuesday, capping a week of political brinkmanship rarely seen in a Nordic nation.
The parliament voted 104 to 85 to back the government, with 10 lawmakers absent and none abstaining. The result means Prime Minister Juha Sipila can push ahead with unpopular economic reforms targeting key welfare services and the labor market.
The vote follows an unusual week of political drama in Finland. Sipila narrowly avoided losing his majority last week after a coalition partner, the anti-immigration The Finns party, elected as its leader a man convicted for his diatribes against Islam. The move was more than the prime minister and his other coalition partner could stomach. They ended their collaboration with The Finns, and prepared to step down.
Before Sipila could hand in the government's resignation, The Finns party split in two, with a more moderate faction providing just enough votes to give Sipila the majority he needed to cling on to power. But Finland's parliament has been deeply rattled by the events.
The constitution leaves plenty of leeway for ad-hoc decision making in times of political crisis and Sipila has sought legal counsel to guide him through the process.
At stake are the government's reforms, including revamping social services and health care. These can now move forward, with the tailwind of economic growth helping efforts to restore fiscal sustainability.
While the past week and a half of political turmoil is highly unusual in Finnish politics, the country's coalitions have generally been less stable in recent years. In 2011, a six-party government took almost nine weeks to form, only to lose two members and a prime minister before limping to the 2015 elections with the slimmest possible majority. During the first two years of Sipila's rule, the government has reversed several of its own decisions, leading to resignation threats by the premier in the autumn of 2015.
The last Finnish government to have served a full four-year term was headed by Prime Minister Paavo Lipponen in 1999 to 2003.
Before it's here, it's on the Bloomberg Terminal.
LEARN MORE