EU Judges Must Oversee Brexit Transition, Barnier Tells U.K.
By
Chief negotiator responds to Hammond's call for phase-in stage

U.K. must first give details about how it sees relationship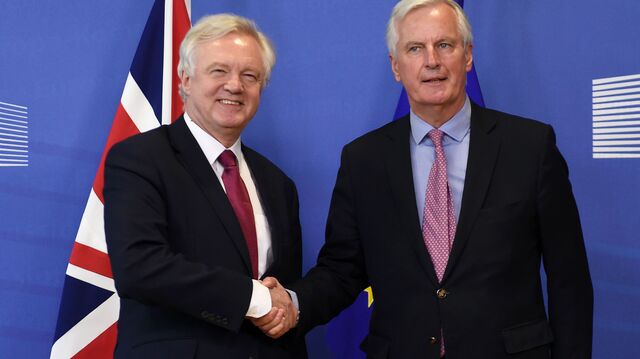 The U.K. will have to remain subject to the oversight of European Union judges if it wants a bridging arrangement to smooth its exit from the bloc, EU chief Brexit negotiator Michel Barnier said.
Responding to a call from Chancellor of the Exchequer Philip Hammond for the U.K. to be allowed a transition period when it leaves the EU in 2019, Barnier said that while he too favored such an approach, European courts would be in charge of checking Britain wasn't breaking the rules.
"There may well be the need for certain transitional periods, some of them which will involve phasing out, others potentially phasing in," Barnier told reporters in Luxembourg after a meeting of EU affairs ministers. These would be "within a framework of the structure of supervisory regulation and control by the European Court of Justice."
Barnier was speaking a day after the start of formal negotiations between the EU and U.K., during which the Frenchman warned Theresa May's government that he was in no mood to make concessions, and reiterated that the clock was ticking on the negotiations. Britain will leave the EU in March 2019 with or without a deal.
In a speech at Mansion House in the City of London earlier on Tuesday, Hammond warned against a so-called hard Brexit, calling for an "early agreement on a transitional arrangement so that trade can carry on flowing smoothly."
Hammond has long sought to promote a less abrupt break from the EU than advocated by some in the Conservative Party, stressing the need for a gradual introduction of the new relationship. May's poor election performance has strengthened his hand, allowing him to push for a more central role in helping coordinate the government's new tone on Brexit.
Any bridging phase following Brexit would last for "a short duration, in any case," Barnier said, and the U.K. would need to give much more detail about how it saw its post-2019 ties with the EU.
"In order to work on this subject we need to be enlightened more on the nature of future relations which obviously will have repercussions for the content and the dimensions of such transition periods," Barnier said.
— With assistance by Svenja O'Donnell
Before it's here, it's on the Bloomberg Terminal.
LEARN MORE