Cable Says He's Running for U.K. Liberal Democrat Leadership
By
Liberal Democrats must be 'ready for the fight,' Cable says

Former business secretary recaptured Parliament seat on June 8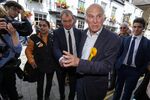 Former U.K. Business Secretary Vince Cable said he'll run for the leadership of the anti-Brexit Liberal Democrat party to replace Tim Farron, who quit last week.
"With 20 years on the national political stage I am passionate as ever about our liberal values," Cable said Tuesday in a statement on the Liberal Democrat Voice website. "I am ready to commit my energy, enthusiasm and experience to the task of leading the Liberal Democrats through what will be a period of chronic uncertainty. With the prospect of another election looming large, we must be ready for the fight."
Cable, 74, has perhaps the highest profile among the 12 Liberal Democrat members of the House of Commons. He was business secretary between 2010 to 2015 as part of a coalition with David Cameron's Conservatives. He's the first lawmaker to announce he's running to lead the party, the traditional third force in U.K. politics but now the fourth largest in Parliament with fewer seats than the Scottish nationalists.
Cable lost his Twickenham seat in southwest London in the 2015 general election as the Liberal Democrats were reduced to a rump of just eight lawmakers in the 650-member lower house. He recaptured the district in the June 8 election when the Lib Dems made gains in areas that backed staying in the European Union in last year's referendum, though the party's vote share fell and some existing lawmakers, including former Deputy Prime Minister Nick Clegg, failed to get re-elected.
'Faithful Christian'
Farron, 47, stepped down Wednesday, saying he'd been torn between "living as a faithful Christian and serving as a political leader." He was quizzed during the campaign about his views on whether he believed gay sex was a sin rather than on his socially progressive policies, which included legalizing cannabis.
Bookmaker William Hill Plc made Cable the favorite ahead of Norman Lamb, who lost out to Farron in the previous leadership contest in 2015 but has indicated he's considering a new bid. Former Energy Secretary Ed Davey is also touted as a potential candidate. The early favorite, Jo Swinson, ruled herself out, saying instead she'll seek the deputy leadership.
Cable, a parliamentary candidate for the Labour Party in the 1970s, made a career as an economist before winning election to Parliament in 1997. As business secretary, he repeatedly called on banks to limit bonuses and to boost lending to small businesses. He also oversaw the privatization of Royal Mail Plc, though he was criticized for setting the price of the shares too low.
Early on his cabinet role, Cable was stripped of responsibility for supervising media mergers after he was caught by undercover reporters in a sting operation saying he'd "declared war" on Rupert Murdoch at a time when the veteran media mogul's News Corp. was bidding for British Sky Broadcasting Group Plc.
— With assistance by Alex Morales
Before it's here, it's on the Bloomberg Terminal.
LEARN MORE