Brazil's Popular Leader Lula on Trial: a Guide to What's Next
By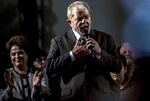 Former Brazilian President Luiz Inacio Lula da Silva, one of the most popular leaders the country has ever had, is a defendant in five criminal cases. In one, a verdict could come any day on allegations of money laundering and corruption. Lula still leads opinion polls in a hypothetical presidential race. A guilty ruling upheld by an appeals court would bar him from launching another bid for the nation's top job.
1- What's the current state of play?
Defense lawyers made their final arguments June 20, denying charges that Lula and his wife, Marisa Leticia, allowed construction company OAS SA to pay for improvements at a beach-side apartment they were connected to in return for political favors. On May 10 Lula testified before Judge Sergio Moro, the lead judge in the sprawling corruption probe known as Operation Carwash, prompting an outpouring of support from his followers as well as some counter-demonstrations. On May 14, Moro declined to hear further witnesses from both the prosecution and defense.


2- Is there a deadline for Moro to make a final decision?
No, according to Rubens Glezer, a professor at FGV Law School in Sao Paulo. The ruling could take days, weeks or months.


3- What would happen if Lula is found innocent? 
A favorable legal outcome would embolden Lula and his supporters, who have claimed the accusations against the ex-president are politically motivated. It would also keep alive the possibility of a Lula candidacy for the 2018 presidential race. Still, even if he is found innocent, Lula still faces four other trials against him.
4- And if Lula is convicted?
Lula can challenge the verdict at a federal appeals court. He can likely do so without facing immediate imprisonment, unless judges deem him a flight risk or express concern that he could intimidate witnesses. While there is no legal deadline for a decision, rulings on similar appeals have been made on average in 342 days.
5- What would happen if Lula lost his appeal?
An appeals court decision upholding any conviction would bar him from running for political office for eight years and may mean prison time or house arrest. In that case, a long shot for Lula to become a candidate would be to seek an injunction from the Supreme Court, alleging political persecution.
6- Will political considerations affect the outcome?
Judges become more cautious when ruling on cases with potentially significant political consequences, according to Glezer. If the ruling nears the October 2018 election and Lula is still ahead in the polls, the political context may weigh on judges' minds.
7- What happens to Lula's legal woes should he become president?
If Lula is not convicted by an appeals court before the election and wins the vote, the remaining cases against him would have to be submitted to the Supreme Court, as it is the only legal body that can try a sitting president.
Before it's here, it's on the Bloomberg Terminal.
LEARN MORE