Balance of Power: North Korea Tests Trump's Patience
By , , and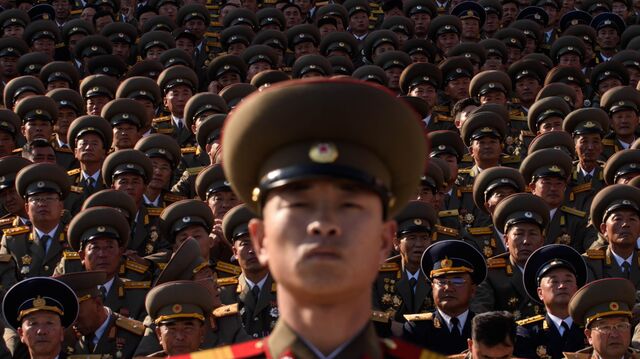 Otto Warmbier's death brings home to American households the cruelty and capriciousness of North Korea in a way dozens of missile tests never could.
The 22-year-old student, whose "crime" was to take down a banner in a hotel hallway during a tour of Pyongyang, was returned home last week after 18 months of imprisonment. He died yesterday after suffering unexplained brain damage.

The question now is whether his fate will change Trump's calculus when dealing with Kim Jong Un.

So far, he has relied on a mixture of diplomacy and saber-rattling to bring Kim to the negotiating table, with a special focus on lobbying China to use more of its leverage over North Korea.
Now the fear in some Asian circles is that the emotional impact of Warmbier's death could provoke Trump into a military strike similar to the one that followed April's gas attack in Syria, which killed women and children.
An attack carries immense risks and three more Americans are still held in North Korea. So Trump may have few options but to stick with diplomacy, historically not his strongest suit.
Sign up to receive the Balance of Power newsletter in your inbox, and follow Bloomberg Politics on Twitter and Facebook for more.

Global Headlines
The battle in Georgia | Today's special election in Atlanta will offer Republicans and Democrats clues about how best to deal with Trump in next year's congressional races. What should have been an easy win for Republicans — the district previously elected former Speaker Newt Gingrich — has become the most expensive House race in history as Democrats try to capitalize on the president's unpopularity.

U.K. blinks first in Brexit talks | Britain's chief negotiator yesterday agreed to delay talks on the U.K.'s future trade deal with Europe until a pact has been reached on the terms of the divorce — including how much Britain has to pay to settle its accounts. That matters because the U.K. will now have to make financial commitments before it knows just what kind of trade accord the EU is willing to grant it in return.

Wanted: A new press secretary | Sean Spicer, Trump's most visible spokesman, may soon have a new job. Jennifer Jacobs writes that Trump may move Spicer into a more senior role and hire a replacement as part of a revamp to his communications team. But the talent pool may be limited. Only 6 percent of PR professionals said they'd take the post if asked, according to a survey by the University of Southern California's Center for Public Relations.

Russia probe hobbled by partisan strife | The U.S. House Intelligence Committee is so riven by partisan mistrust its members can't even agree on the mission or the scope of their investigation into Moscow's meddling in the 2016 election. The panel, which plans to hear tomorrow from former Homeland Security Secretary Jeh Johnson, has yet to depose a single witness. Its Senate counterpart, by contrast, has already interviewed more than 30 people.

West Africa terror spreads | As France and the U.S. bicker at the UN Security Council about who'll pay for a West African anti-terror force, Islamist militant attacks in the region are threatening to provoke a new exodus of refugees toward Europe. French President Emmanuel Macron sees the force as vital to stabilizing Mali and neighboring countries, while Trump wants to scale back.

Why Putin isn't laughing | Suddenly, criticism of the government is a trending topic for the video bloggers who set the tone for millions of young Russians on YouTube. As our Moscow bureau writes, President Vladimir Putin's team is playing catch-up with its foul-mouthed online opponents. The stakes are high as the Kremlin strives to deliver Putin a commanding win in next year's elections.

And finally ... There's been a lot of talk about where Britain will focus its attention after Brexit — the U.S.? China? It turns out we should have been looking into outer space. Theresa May's government will set out plans tomorrow to allow the launch of rockets from U.K. soil. While the missions are a long way from lift off, the plans could at least allow May to show she can still get things through Parliament despite losing her majority.

Before it's here, it's on the Bloomberg Terminal.
LEARN MORE