Trump's Steel-Import Threat Prompts EU to Warn of Retaliation
By , , and
European trade chief says U.S. risks opening 'Pandora's box'

Malmstrom urges Washington to cooperate to tackle global glut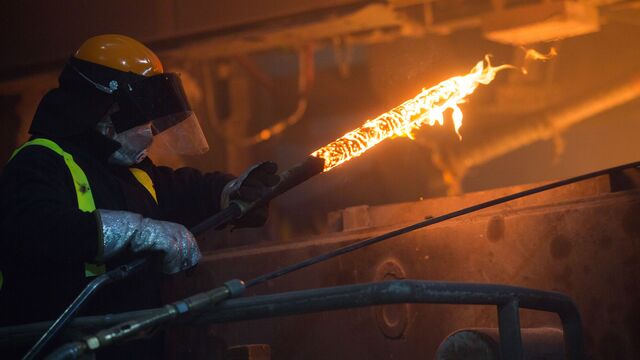 European Union Trade Commissioner Cecilia Malmstrom said she's "extremely worried" about a U.S. threat to curb steel imports for national-security reasons, saying the step could trigger protectionist reactions around the world.
"That is opening a Pandora's box," Malmstrom said in an interview with Bloomberg News in her Brussels office on Monday. "Many other countries would maybe also refer to security and, because of that, do a lot of protectionist measures."

As President Donald Trump presses ahead with his "America First" policy, unease is mounting in Europe over a U.S. probe begun in April into steel shipments. The inquiry marks a further challenge to a multilateral trade order also shaken by Trump's decisions to pull out of a new trans-Pacific commercial accord, freeze talks on a deal with the 28-nation EU and renegotiate a longstanding pact with Canada and Mexico.
The steel investigation, based on the rarely used "Section 232" of a 1962 U.S. trade law, allows the president unilaterally to "adjust" imports should the Department of Commerce find evidence of a national-security threat from foreign shipments. U.S. Commerce Secretary Wilbur Ross said in an interview on Monday with Bloomberg Television that Trump intends to take "bold action" under the probe, the results of which are due to be released this month.
Steel Glut
Malmstrom said any general U.S. measure to limit steel imports would affect Europe dramatically, potentially threatening numerous jobs in the EU. A European response could entail a complaint to the World Trade Organization and "other things," she said.
"We will retaliate, of course," said Malmstrom, who declined to elaborate. She said that the European Commission, the EU's executive arm, is discussing the matter with member-state governments and that many of them have probably been in contact individually with the Trump administration.
Malmstrom urged international cooperation to tackle a global steel glut caused mainly by China, the biggest producer of the metal.
Total U.S. steel imports last year amounted to 26 million metric tons, of which 3.2 million tons were shipped from the EU by companies such as Thyssenkrupp AG, Salzgitter AG and Celsa Group. The EU shipments were worth 2.8 billion euros ($3.1 billion), according to the European Steel Association.
'Collateral Damage'
The association, also known as Eurofer, said last week any U.S. curbs that ended up sparing the EU would still do serious harm to producers in Europe because shipments from targeted countries would be diverted to the bloc.
Malmstrom declined on Monday to speculate about the precise form of any U.S. limits, instead stressing that in any case they would harm the EU.
"Even if we are not the target, we will be collateral damage in this process, which is going to hit Europe very hard," she said.
— With assistance by Andrew Mayeda, and Joe Deaux
Quotes from this Article
Before it's here, it's on the Bloomberg Terminal.
LEARN MORE