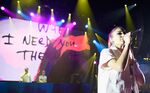 Like that critically acclaimed indie band about to make its first big studio album, music streaming service Spotify is at a delicate stage of its existence.
The Swedish startup founded by Daniel Ek is preparing for life as a public company sometime this year or next. The arguments put forth in its newly released 2016 financial statement sound like a dress rehearsal for those it'll make to potential investors.
But the band needs a few more sound-checks before stepping into the stadium spotlight. Despite truly impressive revenue and user growth, Spotify's losses are deepening. This isn't just down to paying expensive licensing fees to music labels, though that's the most unsettling part of its business case. A near 40 percent rise in marketing, product development and general costs took a toll too.

While a young company in a burgeoning market should certainly invest to expand, it's fair to ask how long public investors would indulge Spotify.
Of course, the usual laws of valuation gravity don't apply in tech world. Look at Amazon.com Inc. or Netflix Inc., which is closer to the Spotify model. Netflix is a subscription-based digital content provider that enjoys the adulation of shareholders even though its profit is dwarfed by its revenue. Its shares have risen almost 60 percent in a year, far outpacing the Nasdaq.
Spotify has strong customer growth, a great brand and a beautiful product, so maybe it could join that gilded band of tech pioneers who get a free pass on profit. 
Ek has shown he can compete with the mighty Apple Inc., Google and Amazon—at least in terms of building the biggest market share. His company accounted for 43 percent of music subscriptions at the end of 2016, according to MIDiA Research, up from 34 percent in 2014. That's pretty remarkable given that Apple launched a rival service in mid-2015 helped by its massive installed base of iPhones. Apple's market share was 20 percent at the end of last year.
Like that cool new band, you do feel Spotify has so much damn potential. As a vast music collection and radio station mashed into one, it has established itself as a powerful taste-maker by pushing curated playlists to 140 million users.
Yet it's here where the fan girl wavers and the business doubts creep in. Ek still has a long way to go to match up with a company like Netflix. Spotify's gross margin did improve slightly last year to 15.3 percent, but that's less than half the level at Netflix and Amazon. Plus the cost of a 1 billion euro ($1.1 billion) convertible bond raised last year from Goldman Sachs Group Inc. and two funds is starting to bite. Spotify's finance costs rose to 336.6 million euros last year, from 26.2 million euros in 2015.

And it's hard to shake off those nagging fears about how beholden Spotify remains to the big three labels, which gobble up about 80 percent of its revenue. It managed to rework its deal with Vivendi's Universal Music Group, but the balance of power still seems to be held by the record bosses.
That's another advantage for Netflix, which has emerged as a powerful film and TV producer in its own right. As I've argued before, Spotify should try to do similar, although that would need both money and patience. 
Spotify is toying with bypassing a traditional IPO and directly listing its shares so the 34-year old CEO may not have to lobby potential shareholders at first. But he'll have to sing sweetly for his supper at some point.
Before it's here, it's on the Bloomberg Terminal.
LEARN MORE