Shale's Record Fracklog Could Force Crude Prices Lower
There are now nearly 5,500 drilled-but-uncompleted wells in the U.S.
By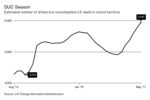 If OPEC thought shale was a thorn in its side before, just wait until U.S. explorers turn their spigots on full blast. There were 5,496 drilled-but-uncompleted wells in the nation's oil fields at the end of May, the biggest so-called fracklog in at least three years, according to estimates by the U.S. Energy Information Administration. Wells waiting to be fracked and flowing are an overhang that could mean a burst of new supply in the second half of the year and into 2018, according to Luke Lemoine, an analyst at Capital One Securities Inc. in New Orleans.
Before it's here, it's on the Bloomberg Terminal.
LEARN MORE