Activist Land & Buildings Targets Saks Owner Hudson's Bay
By
Land & Buildings says it holds 4.3 percent of company

Urges board to sell real estate, explore take-private deal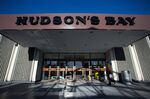 Hudson's Bay Co. jumped the most in two years after activist investor Land & Buildings Investment Management took a position in the retailer, urging the parent of Saks Fifth Avenue to unlock the value of its real estate portfolio and explore a take-private transaction.
Toronto-based Hudson's Bay rose 15 percent to C$10.22 in Toronto Monday, the biggest jump since February 2015.
Stamford, Connecticut-based Land & Buildings, which said it owns 4.3 percent of Hudson's Bay, called the retailer a "diamond in the rough," in a letter to the board Monday. It encouraged HBC to focus on monetizing its real estate portfolio rather than concentrating its efforts on failed mergers with rivals such as Neiman Marcus Group Inc. or Macy's Inc.
"The path to maximizing the value of Hudson's Bay lies in its real estate, not its retail brands," Jonathan Litt, co-founder of Land & Buildings, said in the letter. "In our view, the whole time the company's management has been struggling to navigate this complicated maze of M&A options, the answer lies in its own real estate portfolio."
The Saks Fifth Avenue location in New York alone could be valued at C$5 billion ($3.8 billion), Litt said. The company has estimated the real estate is valued C$35 a share, or four times HBC's close Friday, he noted. He argues the company should also evaluate a take-private transaction led by current management, given where the shares are trading and that about 20 percent of the company is held by insiders. He has called for a meeting with the board to discuss the issues.
'Real Estate Company'
In a separate statement, Hudson's Bay said it was reviewing the letter from Land & Buildings and would respond in due course. The company launched two joint ventures in 2015 - one with Simon Property Group Inc. in the U.S. and Europe and one in Canada with RioCan Real Estate Investment Trust - in an effort to unlock the value of its real estate.
Hudson's Bay said at the time it hoped to "fatten up the portfolio" of each through acquisitions before taking them public.
Land & Buildings said Hudson's Bay should explore other uses for its department stores in prime locations.
"Hudson's Bay is a real estate company, full stop," Litt writes. "If there is a smarter and better use of any or all of the locations, stores should be closed and redeveloped and put towards their optimal use," he added. "The next logical step is to aggressively move to monetize and redevelop the company's real estate, including some of its irreplaceable crown jewel locations."
Shares of the Toronto-based retailer had dropped by a third this year, for a market value of C$1.6 billion, before Land & Buildings revealed its position. Even if its real estate is worth half of the company's estimates, shares would be worth twice as much as they are, Litt said. He also noted that shares have fallen since Hudson's Bay tried to merge with another company and announced a C$350 million restructuring.
"We do not know Richard Baker – the chairman and chief visionary at Hudson's Bay – very well. However, other real estate executives speak highly of him," Litt said. "That said, the jury still appears out in our view, if for no other reason that during his tenure, the company's shares have declined from a high of nearly C$30 to the current C$8.88."
— With assistance by Steven Frank
Before it's here, it's on the Bloomberg Terminal.
LEARN MORE