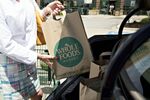 "Conglomerate" is one of the seven dirty words of American capitalism. That's what makes it so surprising that capitalists are cheering Amazon.com's transformation into a new kind of conglomerate.
Those diverse assortments of businesses go in and out of fashion in corporate America. The original conglomerate trendsetter was International Telephone and Telegraph, or ITT, which at various points owned telephone companies, the Sheraton hotel chain, a grass-seed business, the maker of Wonder Bread and for-profit colleges. Under longtime CEO Jack Welch, General Electric became one of the world's most valuable corporations with assets including lending businesses, jet-engine manufacturing and the NBC television network. 
But the conglomerate is an endangered species now. Welch's successor recently lost his job in part because he didn't do enough to make sense of GE's sprawl. That is simply not how big companies are run anymore. Companies such as Pfizer and Hewlett-Packard are breaking up or ditching distracting businesses to concentrate on one or two areas that they do well. Focus is cool. 
And then there is Amazon, which is the modern-day ITT and is loved for it. 

Consider that in the last few years the world's online shopping mall has also become the following: a significant distributor of movies, TV shows and music; a would-be rival to UPS in package delivery by land, sea, air and drone; a prominent seller of tablet computers, home speakers and other digital gadgets; a consumer goods company with its own brands of clothing, coffee and batteries; a disruptive vendor of technology to corporations; a middleman for restaurant food delivery and for home services professionals; and -- as of Friday -- the soon-to-be owner of the Whole Foods supermarket chain.
In anyone's hands other than Amazon CEO Jeff Bezos, the company's scope would be insane.

Owning grocery stores is not focus. The whole point of e-commerce is to shop without the hassle of a store. But assuming the acquisition goes ahead as planned, Amazon will soon control more than 450 supermarkets in nearly every U.S. state, Canada and the United Kingdom. And the complex grocery business has so far befuddled the geniuses at Amazon. 
So did investors panic at Amazon's surprise $13.7 billion expansion into yet another unfamiliar industry? Nope. Amazon's total stock market value rose by nearly the entire value of the acquisition, or $11.2 billion.
And this kind of sunny reaction to Amazon's empire building was not a one-off reaction. In the last five years, as Amazon has branched into many more nooks and crannies of business -- and as its sales and cash flow have climbed -- the company's stock market value has quintupled.
This happened even though Bezos also violates the maxim that public companies should try to maximize profits. Amazon's free cash flow -- that is the cash generated by its business in the last year, minus what it spent on big projects such as package warehouses -- amounted to less than 7 cents for every dollar of sales. 
There are two explanations for the stockowners' reaction to how Amazon operates. Either they are delusional, or they want Bezos to thrive as one of the last of the endangered conglomerates. Spoiler alert: There is no mass hysteria about Amazon.
Bezos is unique in that people want him to shoot for the moon. (Quite literally. One of his side projects is rocket ship company Blue Origin.) And nearly all of those moonshots have been successful. Perhaps you're reading this on an Amazon Kindle while munching on popcorn that Amazon delivered to your doorstep within an hour.
Bezos's splurge on Whole Foods is a step in his mission to take over as much of our shopping lives as possible. Every dollar spent somewhere other than with Amazon pains Bezos, and a lot of those non-Amazon dollars are spent on groceries. The category accounts for about 30 percent of U.S. consumer spending excluding some categories such as cars and energy, estimates Morgan Stanley.
It's entirely possible Amazon could flop in its foray into groceries. It's a tough category for newcomers to crack. But Bezos has more than proven he deserves a chance to build his empire with the goal of grabbing a bigger chunk of shoppers' checkbooks. Even if Bezos buys a grass-seed business, don't panic. There might be a method in his madness.
Before it's here, it's on the Bloomberg Terminal.
LEARN MORE