Your Evening Briefing
Bloomberg News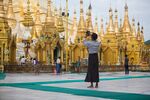 When Myanmar opened to the outside world in 2011 after decades of military rule, the former British colony held promise as one of the world's hottest tourist destinations. With its lush landscapes and ancient temples, government planners hoped tourism would become a big part of the nation's development equation. It hasn't worked out that way. A construction glut has flooded Myanmar with unused hotel rooms, and poorly regulated building has damaged national treasures like the archaeological site of Bagan and scenic Inle Lake, which is becoming clogged with silt and garbage. In March, a senior British diplomat said Myanmar could be the next Vietnam or Thailand, with the economy having the potential of growing as much as 10 percent. But as he pointed out, "growth takes time." —Brent O'Brien and Alex Millson

Singapore property stocks are on a roll, and strategists believe the rally is far from over. With an expected pickup in real estate following the easing of housing curbs, developers are expected to be the bright spot in Singapore equities as gains in the city-state's stocks may be limited for the rest of the year.

Australia's economy is capable of stronger growth, the nation's central bank Governor Philip Lowe says. But there's an if. Lawmakers must first overcome political gridlock over needed economic reforms. Since the 2008 global financial crisis, Australian politics has become increasingly polarized as parties exploited those losing out from proposed reforms to gain electoral advantage.

Shinzo Abe's popularity is sliding. The Japanese prime minister's grip on the ruling Liberal Democratic Party appears to be slipping after concerns about cronyism and the rushed passage of an "anti-conspiracy" law triggered his biggest drop in support since taking office in 2012. 

Ever since the U.S. announced its withdrawal from the Paris agreement, China and India have been hailed for firmly recommitting to the global emissions pact, writes the Bloomberg Editorial Board. The praise is fair: it's good that two of the world's three biggest greenhouse-gas emitters have renewed their promise to act. But if they really hope to lead on climate, they'll have to be more ambitious.

Hong Kong will continue to peg its currency to the U.S. dollar. For some time there has been talk that the city should switch its peg to China's yuan, amid closer economic links. But the chief of the city's de facto central bank has once again reiterated that the dollar peg will remain, having weathered financial crises for more than 30 years. So it's safe. For now, at least.

Seven things you should never cook on the grill. Few things conjure up the feeling of summer like a fully loaded grill. Steak and burgers, a couple of salmon fillets, even a pizza charring over the fire. But you're doing it all wrong. Here top chefs crush your summer dreams and tell you why you're cooking the wrong things.

Quotes from this Article
Before it's here, it's on the Bloomberg Terminal.
LEARN MORE